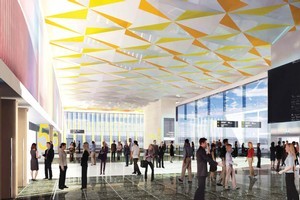 New Zealand needs an international convention centre to create jobs and boost the economy, Prime Minister John Key said yesterday, rejecting criticism of an agreement that could lead to changes to gambling laws.
On Sunday, Mr Key announced plans for the 3500-seat centre in Auckland, which will cost SkyCity $350 million to build.
SkyCity has asked the Government to consider changing the laws covering its licence so it can have more gaming tables and poker machines at its casino, in the complex where the centre will be built.
"We're constantly changing regulations and laws in relation to economic activity," Mr Key said at his post-Cabinet press conference.
"In the case of the Auckland casino and the new national convention centre, this is a site-specific issue ... The legislation covers that particular licence and it would have had to be renegotiated in 2021 anyway in terms of the scale of that activity."
Mr Key said it was a good deal for New Zealand.
"We get a $350 million investment, 1000 new jobs when it is built and 800 permanent new jobs - it's a large economic boost."
Opposition parties have criticised the plan, saying the Government is putting laws "up for sale" and that the social harm of increased gambling outweighs economic benefits.
Mr Key said that was nonsense.
"We've had nine years of a Labour government which has been tying people up in red tape and stopping this country progressing," he said.
"We are a government that wants to make progress in terms of economic development."
The Hotel Council said an international centre would be a huge boost for the conference and exhibition sector.
"With an estimated increase of over 100,000 visitor nights, Auckland hotels certainly stand to benefit from this long-awaited development," it said.
"There will also be spin-off opportunities for the wider tourism industry as New Zealand becomes known as an international conference and exhibitions destination."
The Problem Gambling Foundation backed the building of a convention centre but said it was concerned about the impact of increasing the number of poker machines and gambling tables at the casino.
"We know how dangerous these machines are and how much harm they can cause our communities," said chief executive Graeme Ramsey.
"Why would we want even more of them?"
Mr Key said that depended on where the pokies were.
- NZPA