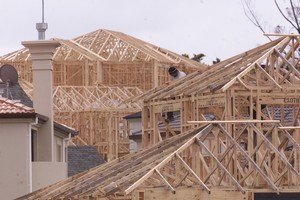 Plans for a compulsory builders' guarantee for quality of work have been ditched from legislation drawn up after the multi-billion dollar leaky building scandal.
The warranty was among new consumer support measures proposed in a review of the Building Act last year and expected to be considered by Parliament this year.
But there is no sign of it in the Building Amendment No 3 Bill, which is now before a parliamentary select committee.
Lawyer Paul Grimshaw, whose firm acts for 6000 leaky home owners, said: "The reason we have got into this mess is that developers and builders have been able to run away from their obligations.
"A warranty or bond system would ensure they stand behind their workmanship.
"A bond posted with the bank would effectively provide a guaranteed redress for these people."
Building and Construction Minister Maurice Williamson declined to comment.
Last year's review looked at industry reform after the leaky buildings scandal, the cost of which has been put at between $11 billion and $22 billion.
The Department of Building and Housing said changes proposed in the review would be phased in - but stopped short of promising a builders' guarantee would be included.
A further bill proposing new consumer protection and remedy provisions was being drafted for introduction to parliament this year, the department said.
It would cover new contracting requirements.
Home Owners' and Buyers' Association president John Gray said consumers would continue to bear the burden of failed buildings.
The No 3 bill had not gone far enough in consumer protection.
"Once again they have been hijacked by the industry."
Auckland Council building policy manager Bob de Leur said the council would ask that a warranty be included to ensure builders "get it right first time and fix defects".
A home warranty, backed by insurance, would ensure industry parties were held accountable for fixing defects, replacing the present system under which councils were liable.
"This will provide added incentive for designers and builders to ensure they undertake quality work and reduce the council's potential financial exposure."
The council has a statutory role to certify that a completed building complies with the building code, and it is being sued by owners of leaky homes.
It faces leaky building claims for 3500 properties, and its accounts provide $395 million for leaky buildings, on top of $92 million already paid by the region's seven former councils.
It is the biggest building consent authority in the country and processes about a quarter of the annual 70,000 consents. The monthly value of Auckland consents is $237 million.
The council strongly supported a requirement for a builders' guarantee when it was proposed in the Government review discussion document.
But the Registered Master Builders Federation is pushing an alternative to a mandatory guarantee.
Federation chief executive Warwick Quinn said insurance companies in a compulsory scheme in New South Wales collapsed, resulting in the state government being forced to manage and underwrite it.
The federation said that instead of being forced to offer a guarantee, a builder should be required to disclose whether he had the financial backing to offer a guarantee, and on what terms and conditions.
"This lets the consumer choose whether to take up a home warranty or not.
"Many home owners do not want a warranty because it is not a high-risk project and they are not interested in paying for it."
Half of new home projects are covered by surety plans already available.
The federation has a mutual fund to back four types of guarantee for different purposes.
Mr Quinn said the market of 15,000 new house consents a year was too small to interest insurance companies.
Update:
Building and Construction Minister Maurice Williamson has responded to details in this article.
"Reports in this morning's New Zealand Herald and later repeated by Opposition Leader Phil Goff that a compulsory builders' guarantee has been removed from legislation are incorrect and unhelpful to the industry," Williamson's office said today.
"Last September changes to building legislation were split into the Building Amendment Bill No 3, and Building Amendment Bill No 4. The Herald incorrectly referred to consumer protection measures being removed from Building Amendment Bill No 3, when the measures were never part of that legislation. Consumer protection measures agreed by Cabinet in August 2010 are set to be included in Building Amendment Bill No 4, expected to be introduced to Parliament later this year."