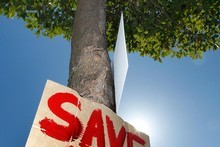 Auckland local boards want a further 4000 trees on private urban sections saved from the chop - adding to a $100,000-plus bill to assess existing nominations for the schedule of protected trees.
The drive to add appropriate trees to the schedule is prompted by a change in the Resource Management Act that removes "blanket protection" from January 1 next year.
Arborists are already assessing 1376 trees nominated last year by former community boards. Each tree could take an hour to be assessed, including travel and paper work.
The schedules in the seven former councils' district plans contain 3690 notable trees.
Changing the plans to add to schedules could cost $30,000 to $100,000 each, depending on the number of objections from property owners.
Regional development and operations committee chairwoman Ann Hartley said she had not seen an updated cost estimate.
The cost depended on an Environment Court ruling expected next month on whether trees in clusters, particularly coastal pohutukawa, had to be specifically identified in district plans.
Not all trees nominated would be approved by arborists for protection.
Environment Minister Nick Smith introduced the change last week.
He says it is a far better system for the council to use to identify significant trees that will require a resource consent to trim or remove.
Under the blanket protection rule, he said, a home owner had to go through the expensive process of getting resource consent for every tree.
"I accept that there is a cost initially in identifying those trees for protected status. But this is far more efficient than the council processing 5000 consents a year for tree trimming and removal."
Nominations closed on March 31.
A council spokesman said 579 nominations identified 4000 trees for scheduling, including groups of trees.
Eden-Albert Local Board offered 1237 trees from 70 nominations and 17 nominations in the Waitakere Ranges Local Board offered 515 trees.
In the Waitemata Local Board area, 300 nominations sought the protection of 500 trees.
Board member Tricia Reade questioned the need for the tree nominations process.
"The Government had no business meddling in District Plans with their changes to the RMA.
"The general protection of trees under the Auckland isthmus district plan was removed by heavy-handed government legislation and, in turn, has dispensed yet another task and unnecessary cost to Auckland ratepayers."
By Wayne Thompson

Email

Wayne