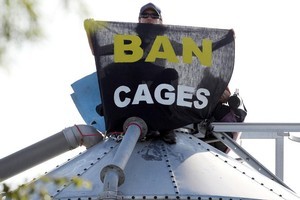 Two women who chained themselves to silos on a battery hen farm ended their protest early because they had achieved their goal, an animal rights organisation said today.
Coalition to End Factory Farming activists Deirdre Sims and Marie Brittain began their action at the farm near Pukekohe, south of Auckland, at 6am yesterday.
They had intended staying there until this morning, and had taken sleeping bags, food and water to help them to pass the night.
However, having spent 14 hours on the seven-metre-high silos, they ended their protest last night, after police agreed not to arrest them for trespass if they came down, coalition spokesman Mark Eden said.
"The goal was to get people talking about battery hens again," he said.
"That was definitely achieved so they were happy to come down."
The Government's National Animal Welfare Advisory Committee is taking submissions on a draft code for layer hens that recommends the phasing out of cages.
Animal welfare organisations say the egg industry's proposal to introduce an alternative "colony system" did not offer significantly improved conditions.
However, Egg Producers Federation chairman Michael Guthrie said the system had been extensively trialled and proven to be effective.
Mr Eden said a march on Parliament was planned for March 5.
He said there would also be further "non-violent civil disobedience" like yesterday's protest.
- NZPA