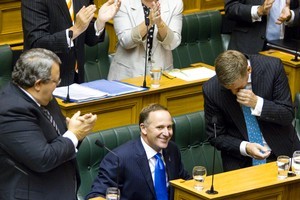 National yesterday pledged better public services at lower cost and gains in health and social services and moves to tackle welfare dependency.
In his statement to Parliament's first session of the election year, Prime Minister John Key outlined the state sector shake-up as a central strand of his economic agenda.
"The message is pretty simple, we are going to spend less and we are going to borrow less."
While the debt problem lies mostly in the private sector, the Savings Working Group identified increased efficiency in the state sector as a quick initial fix and Mr Key said his Government would act to achieve that.
The public service was, by international standards, "bloated and inefficient" Mr Key said.
After campaigning in 2008 on merely "capping" public service job numbers, National had reduced its workforce by 5 per cent in two years and there was, said Mr Key, more to be done to make "government bureaucracy smaller and better".
His Government has asked officials for advice on "further reforms to streamline and improve" the public service's performance.
He indicated that would include further mergers of departments along the lines of last year's amalgamation of the National Library and Archives NZ into the Department of Internal Affairs. One News last night reported officials are working on a merger of the Ministry of Agriculture and Forestry with the Ministry of Fisheries.
Mr Key said the Government had already set specific performance targets in the health sector.
This year would also bring a "special focus" on improving the results of public services for vulnerable children.
Initiatives would include laws to toughen penalties for neglecting or ill-treating a child or for failing to protect children from the risk of death, injury or sexual assault, and stronger support for children in state care and changes to welfare, health and benefit systems.
Mr Key said his Government would also plan broader changes to the benefit system in response to the advice of the Welfare Working Group which has yet to produce its final report.
But in a fiery reply to Mr Key's speech, Labour leader Phil Goff said the Government lacked ideas on how challenges should be met.
"The great plan of the Government to solve our problems is to slash spending on health and education and sell off assets.
"Where are the jobs? The best type of welfare reform is to have jobs that people can go to."
Public Service Association national secretary Richard Wagstaff later dismissed Mr Key's criticism of the state sector, saying it actually stacked up well internationally.
Mr Wagstaff said public servants accepted the requirement to increase efficiency, "but to beat up on the public service because they've made tax cuts for the rich and need to find that money by cutting public services to everyone is really what this Government's trying to do".
Labour's state services spokesman Grant Robertson said the "wholesale reorganisation" of the public sector Mr Key was talking about "is actually something he said in 2008 wouldn't be good for the public sector".
DOING MORE ... WHAT THE GOVERNMENT PROMISES
* Increase elective surgery by 4000 patients a year
* Ensure 95 per cent of ER patients wait no longer than six hours
* Ensure cancer patients receive necessary radiation treatment within four weeks
* Achieve 95 per cent immunisation coverage for 2-year-olds
* More support for children in state care
* Improve early intervention programmes for vulnerable children
* More support to get beneficiaries with children, sickness and invalid beneficiaries into work
* More to ensure young people have skills and support to escape the benefit system
BUT WITH LESS ...
* More public service "back office"savings
* Further "restraint" in core government administration jobs
* More mergers of state agencies