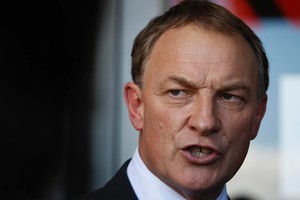 It being election year, Phil Goff has decided to hold a press conference every Monday to counter the Prime Minister's use of his weekly media briefing to set the political agenda. Yesterday's first effort was hardly an unqualified success.
Instead of setting the agenda, Goff found it being set for him by the media. The questions had a recurring theme - where is the money coming from to fund Labour's seemingly ever-expanding list of promises.
Goff's reluctance to provide detail beyond saying Labour would ditch some projects - such as the scheduled $875 million missile upgrade for the navy's frigates - turned the 18-minute press conference into the media equivalent of shooting a rather large fish in a relatively small barrel.
One example suffices. Goff gave a "heads up" on families from today having to pay an extra $25 to $35 a week in early childhood education fees, something he described as a "tragedy" for childhood learning.
So would Labour restore funding to previous levels? Goff confirmed it was a "priority". Almost in the same breath, though, he said that would happen as spare revenue "becomes available". Given other priorities, Labour would not be able to restore those previous levels in its first Budget.
That begged the question of when is a priority really a priority or when is a priority just something on a long list of things a new Labour Government would want to do if it had the money.
Unwilling to say exactly where the money would come from, Goff sounds like someone who not only thinks he can have his cake, but also eat more of it than exists.
He is asking voters to swallow a lot. Never more so than when he cites a bigger tax take from a supposedly improving economy as a source of extra revenue when the economy has actually been in decline.
The next polls may show whether voters buy Labour's line. It will be surprising if they do. Yet it is the polls which are driving Labour's adoption of what, on the face of it, seems a counter-productive strategy.
If Goff is going to close the huge gap between support for his party and that enjoyed by National he has to be bold. That means staking out policy positions now rather than much closer to the November election.
In marked contrast, National was way ahead in the polls in 2008, giving it the luxury of releasing policy at times of its tactical choosing in the run-up to that year's election.
National's strategy was obvious - reduce the time and opportunities for opponents to use controversial policy to demonise a potential John Key-led Government by positioning it on the far right of the political spectrum. Journalists were left punching at air with Labour castigating them for failing to ask the "hard questions".
Three years on and the reverse is true. The major Opposition party is leading with its chin. Instead of punching at air, the media were yesterday almost tripping over one another in demanding specifics.
Labour faces a conundrum. It has no choice but to say where it stands to have any hope of jolting the polls. Goff's reluctance to say how Labour will pay for it all is fast turning a question of credibility into a credibility problem.