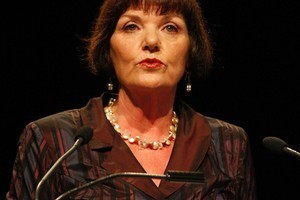 One-third of all schools are "well prepared" for National Standards in reading, writing and maths, the Education Review Office says.
Its report into how schools are coping with the mandatory standards shows nearly 60 per cent are "somewhat prepared", while a few are not ready.
Education Minister Anne Tolley said the report was "extremely encouraging" and showed schools were making excellent progress. But critics say most schools are not ready for National Standards.
"We're still in the first year of a three-year implementation, but already great gains have been made," said Mrs Tolley.
"The Sector Advisory Group will consider this report as part of its ongoing work to address any issues and concerns."
The ERO evaluation was based on information collected from 80 primary and intermediate schools during term three this year.
The schools surveyed were from different deciles and geographic locations and were assessed on how they were adapting to the mandatory standards in reading, writing and maths.
The report shows an increase in schools that are "well prepared" - from 19 per cent in August, to 34 per cent yesterday .
The ERO also found there had been a drop in the number of schools not prepared for the standards at all - decreasing to 7 per cent, down from 20 per cent in August.
School trustees showed the least understanding, with only 10 per cent understanding them "well".
The report said that finding was because most trustees were new to their roles and their understanding relied on reports and school board discussions.
However, New Zealand Educational Institute president Frances Nelson said the Government needed to read between the lines.
"What lies clearly beneath the statistics is the resounding lack of confidence in National Standards by schools, teachers and parents," she said.
"We know many schools have tried to get prepared and work with the standards but they are quickly reaching the conclusion that they will do little to enhance student learning and achievement."
The NZEI will continue to ask the Government to listen to its concerns and commit to taking a genuine look at the issues, she said.
Labour Party education spokesman Trevor Mallard said the Government could not describe them as National Standards because most schools were still not well prepared.
"Sixty-six per cent of schools are not yet well prepared and many of them have said they won't be implementing the policy.
"The last ERO evaluation may make Anne Tolley feel a bit better about herself and her incompetent handling of the introduction of standards, but it is small comfort to the two-thirds of schools which still aren't well prepared."