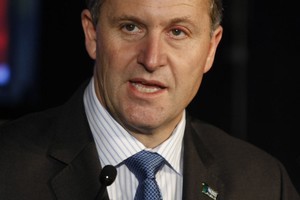 Prime Minister John Key has already made it clear to Warner Bros that the Government can not go to extreme lengths to ensure The Hobbit remains in New Zealand ahead of his meeting with the company's executives this afternoon.
Mr Key will meet the executives to try to persuade them to keep the filming of the Hobbit in New Zealand. He would not discuss exactly what the Government could offer but will not rule out further tax breaks or changes to industrial laws to placate the movie company. However he said there was only so far the government could go.
"From the conversations I've had with Warner Bros so far I've made it quite clear if it comes to a bidding war, then New Zealand is out because I don't think that's the right way to run this."
He said there was a risk that giving special concessions to Warners would allow other production companies to try for the same deals in the future.
"We don't want to be re-negotiating with every single production company that comes to New Zealand."
He said there was a number of issues to resolve, including the industrial relations issues.
While he had assured Warners that the Council of Trade Union's promise not to interrupt filming with industrial action was strong, he believed Warners did not trust the unions.
"I don't know how much store Warner Bros puts in that [assurance] but I understand it's not great store."
He said the uproar over recent weeks had"exposed [the union movement] for what it is at times which is sometimes in the interests of workers and sometimes completely self-serving."
The Australian movie industry was "a wreck" because companies such as Warners did not want to make movies there because of [MEAA assistant director] Simon Whipp, he said.
"So if we want the same thing to happen in New Zealand we should let him run our industrial relations policy here. I for one don't intend to let him do that."
Mr Key said the decision on the Hobbit movies would have ramifications for the long term future of the film industry in New Zealand.
"If the Hobbit movies can't be made here, one questions whether other movies would be made here. So we need to work our way through what is genuine concern and what is not."
He said the NZ dollar was also a lot stronger than when the Lord of the Rings was filmed in New Zealand, which made it more costly for Warners.
However there were a lot of benefits to filming in New Zealand and Warners had already spent quite a bit on the Hobbit films which it would have to write off if it took the movies elsewhere.