Results of the local body elections from across NZ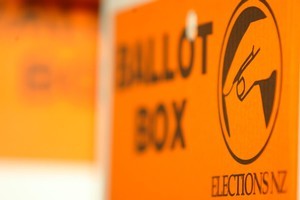 Photo / Richard Robinson.
AUCKLAND
Mayoralty:
Len Brown 221,167
John Banks 161,167
Colin Craig 40,483
(90-95 per cent of the vote counted)
The 20 people elected to the Auckland Council have been confirmed.
They are Michael Goudie, Wayne Walker, George Wood, Ann Hartley, Penny Hulse, Sandra Coney, Mike Lee, Noelene Raffills, Cathy Casey, Christine Fletcher, Cameron Brewer, Richard Northey, Jami-Lee Ross, Sharon Stewart, Penny Webster, Calum Penrose, John Walker, Des Morrison, Arthur Anae, Alf Filipaina.
Rodney ward: (1 elected)
Penny Webster 8063
Christine Rose 5553
Wellsford Subdivision of the Rodney Local Board (1 elected)
James Colville 452
Sally Fiona Usher 346
Warkworth Subdivision of the Rodney Local Board (3 elected)
Steven Garner 3582
Tracey Martin 3372
June Turner 3331
Kumeu Subdivision of the Rodney Local Board (4 elected)
Warren William Flaunty 3326
Bob Howard 3231
Grace Thomas 3143
Brenda Steele 3100
Dairy Flat Subdivision of the Rodney Local Board (1 elected)
Alan Curtis 767
John McLean 765
Albany ward (2 elected)
Michael Goudie 8538
Wayne Walker 8007
North Shore ward (2 elected)
George Wood 14,116
Ann Hartley 12,767
Waitakere ward (2 elected)
Penny Hulse 16,875
Sandra Coney 12,567
Waitemata and Gulf ward (1 elected)
Mike Lee 10,523
Alex Swney 4979
Whau ward (1 elected)
Noelene Mary Raffills 7158
Ross Clow 6740
Albert-Eden-Roskill ward (2 elected)
Chris Fletcher 19,492
Cathy Casey 14,081
Mangawhau Subdivision of the Albert-Eden Local Board (4 elected)
Tim Woolfield 4769
Simon Mitchell 4500
Lee Corrick 4401
Peter Haynes 3985
Orakei ward (1 elected)
Cameron Brewer 17,021
Doug Armstrong 10,433
Maungakiekie-Tamaki ward (1 elected)
Richard Northey 8614
Alred Ngaro 6880
Maungakiekie Subdivision of the Maungakiekie-Tamaki Local Board (3 elected)
Simon Randall 4730
Bridget Graham 4411
Brett Clark 4306
Tamaki Subdivision of the Maungakiekie-Tamaki Local Board (4 elected)
Leila Boyle 7911
Alan Verrall 7102
Josephine Bartley 6955
Chris Makoare 6893
Howick ward (2 elected)
Sharon Stewart 22,537
Jami-Lee Ross 18,382
Pakuranga Subdivision of the Howick Local Board (3 elected)
David Collings 7012
Shirley Warren 5376
Steve Udy 5072
Howick Subdivision of the Howick Local Board (3 elected)
Sharon Stewart 9583
John Spiller 7598
Jim Donald 5775
Botany Subdivision of the Howick Local Board (3 elected)
Michael Williams 7516
Lucy Schwaner 6223
Wayne Huang 5416
Hibiscus Coast Subdivision of the Hibiscus and Bays Local Board (4 elected)
John Watson 6733
John Kirikiri 6527
Gaye Harding 6361
Greg Sayers 4307
East Coast Bays Subdivision of the Hibiscus and Bays Local Board (4 elected)
Julia Parfitt 6732
Gary Holmes 5302
Lisa Whyte 5080
David Cooper 4810
Upper Harbour Local Board (6 elected)
Christine Rankin 6810
Margaret Miles 5468
Lisa Whyte 5467
Brian Neeson 5188
Warren William Flaunty 5066
Callum Blair 4893
Kaipatiki Local Board (8 elected)
Grant Gillon 12,795
Ann Hartley 12,626
Vivienne Keohane 9707
John Gillon 9320
Nick Kearney 7982
Lindsay Waugh 6716
Kay McIntyre 7944
Richard Hills 7215
Devonport-Takapuna Local Board (6 elected)
Dianne Hale 10,235
Chris Darby 9715
Kevin Schwass 8101
Mike Cohen 7379
Jan O'Connor 6062
Joseph Bergin 5472
Henderson-Massey Local Board (8 elected)
Vanessa Neeson 12,593
Ross Dallow 12,018
Warren William Flaunty 11,386
Brenda Brady 10,931
Peter Chan 9332
Tracy Kirkley 8507
Assid Khaleel Corban 8405
Leo Frank Nobilo 8018
Waitakere Ranges Local Board (6 elected)
Judy Lawley 5922
Mark Brickell 5610
Janet Clews 5548
Greg Presland 5019
Neil Henderson 4961
Denise Yates 4699
Manukau Ward (2 elected)
Alf Filipaina 14,264
Arthur Anae 12,546
Manurewa-Papakura Ward (2 elected)
John Walker 19,697
Calum Penrose 16,343
Franklin Ward (1 elected)
Des Morrison 10,010
Dianne Glenn 8927
Waiuku Subdivision of the Franklin Local Board (2 elected)
Jill Naysmith 2086
Daniel Lynch 1948
Pukekohe Subdivision of the Franklin Local Board (4 elected)
Andrew Baker 6741
Magan Ranchhod 5808
Murray Kay 5729
Paul Muir
Wairoa Subdivision of the Franklin Local Board (3 elected)
Jan Sinclair 3377
Bill Cashmore 3124
Lance Gedge 2373
Great Barrier Local Board (5 elected)
Scott Mabey 354
Izzy Fordham 288
Susan Daly 258
Paul Downie 247
Richard Bruce Somerville-Ryan 193
Waiheke Local Board (5 elected)
Denise Roche 2005
Faye Storer 1567
Jo Holmes 1496
Don McKenzie 1254
Jim Hannan 1242
Waitemata Local Board (7 elected)
Shale Chambers 7772
Pippa Coom 7658
Jesse Chalmers 7603
Rob Thomas 6516
Greg Moyle 6295
Tricia Reade 5773
Christopher Dempsey 5666
Whau Local Board (7 elected)
Derek Battersby 9445
Duncan MacDonald 8351
Catherine Farmer 6905
Jack Weir 6875
Sandy Taylor 6840
Lily Ho 6411
Kathryn Davie 6138
Puketapapa Local Board (6 elected)
Michael Wood 8991
Nigel Turnbull 8357
Julie Fairey 7911
Richard Barter 7502
Peter Muys 6729
Ella Kuma 6207
Orakei Local Board (7 elected)
Desley Simpson 15,017
Kate Cooke 14,078
Ken Baguley 14,030
Colin Davis 13,416
Mark Thomas 13,057
Kit Parkinson 12,924
Priscilla Steel 11,491
Mangere-Otahuhu Local Board (7 elected)
Carrol Elliott 9683
Christine Frances O'Brien 9418
Walter Togiamua 8715
Leau Peter Skelton 8471
Tafafuna'i Tasi Lauese 8009
Lydia Sosene 7899
Sylvia Taylor 7876
Papatoetoe Subdivision of the Otara-Papatoetoe Local Board (4 elected)
Donna Lee 7104
Stephen Grey 6699
Ian McGechie 6105
John McCracken 6101
Otara Subdivision of the Otara-Papatoetoe Local Ward (3 elected)
Mary Gush 2758
Tunumafono Ava Fa'amoe 2653
Poutoa Papali'i 2290
Manurewa Local Board (8 elected)
Colleen Brown 11,110
George Hawkins 10,741
Daniel Newman 8471
Ken Penney 8075
Angela Dalton 7777
Angela Cunningham-Marino 6271
Toa Greening 6000
Michael James Bailey 5758
Papakura Local Board (6 elected)
John Robinson 6650
Brent Catchpole 6619
Graham Purdy 6134
Michael Turner 5755
Caroline Conroy 4962
Hine Joyce-Tahere 4858
REST OF NORTH ISLAND
FAR NORTH
Mayoralty
Wayne Brown 5573
John Goulter 5032
Te Hiku Ward
Colin Kitchen 3660
Monty Knight 2409
Mate Radich 1925
Bay of Islands-Whangaroa Ward
Ann Court 4715
Di Maxwell 2815
Tom Baker 2612
Steve McNally 2376
Kaihohe-Hokianga Ward
Tracy Dalton 1875
Sally MacAuley 1335
HAMILTON
Mayoralty: (95 per cent of the vote cast)
Julie Hardaker 12,520
Bob Simcock 11,723
Roger Hennebry 4,967
Lisa Lewis 915
East Ward (6 elected)
Gordon Chesterman 8368
Pippa Mahood 6994
Peter Bos 6682
Roger Hennebry 6612
Daphne Bell 6019
Margaret Forsyth 5835
West Ward (6 elected)
Martin Gallagher 9364
John Gower 7049
Ewan Wilson 6950
Angela O'Leary 5660
Dave Macpherson 4817
Ronny Phillips 4592
WAITOMO DISTRICT COUNCIL
Mayoralty
Brian Hanna 1,968
Mark Ammon 706
Waitomo Rural Ward (3 vacancies)
Allan Goddard 894
Phil Brodie 855
Charles Digby 850
Te Kuiti Urban Ward (3 vacancies)
Guy Whitaker 845
Lorrene Te Kanawa 750
Patricia Hickey 638
TAURANGA
Mayoralty
Stuart Crosby 16,586
Murray Guy 4285
Mark Groos 3937
Mount Maunganui-Papamoa Ward (2 elected - 98 per cent votes counted)
David Stewart 5649
Wayne Moultrie 4980
Steve Morris on 4,815
Bob Harnor on 4,420
Otumoetai-Pyes Pa Ward (2 elected)
Catherine Stewart 3367
Larry Baldock 3045
Richard Kluit 2872
Te Papa-Welcome Bay Ward (2 seats)
Bill Grainger 3751
Terry Molloy 2829
Matua Parkinson 2547
NEW PLYMOUTH
Mayoralty
Harry Duynhoven 10,011
Pauline Lockett 8354
WAIROA DISTRICT
Mayoral
Les Probert 1541
Denys Caves 731
STRATFORD DISTRICT
Mayoral
Neil Volzke - Elected Unopposed
GISBORNE
Mayoral
Meng Foon 9718
Gary Hope 6382
NAPIER
Mayoral
Barbara Arnott 12331
Michelle Pyke 4062
HASTINGS
Mayoral
Lawrence Yule 11,000
Simon Nixon 6,500
CENTRAL HAWKE'S BAY
Mayoralty
Peter Butler 1756
Trish Giddens 1680
Aramoana-Ruahine Ward (4 elected)
Sally Butler 1520
Terry Story 1290
Maitland Manning 1198
Mark Williams 1187
Ruataniwha Ward (4 elected)
Ian Sharp 1588
Michael James Waite 1526
Terry Kevin Kingston 1507
Hilary Pedersen 1250
WHANGANUI
Mayoral
Annette Main
Dot McKinnon
HOROWHENUA DISTRICT
Mayoralty
Brendan Duffy 4550
Anne Hunt 3950
Kere Kere Ward
Anne Hunt 1208
David Allan 822
Miranui Ward
Robbie Shaw 392
Levin Ward
Barry Judd 3142
Victoria Kaye-Simmons 2658
Garry Good 2574
Leigh Griffen-McKeeken 2528
Tony Rush 2291
Waiopehu Ward
Nathan Murray 1325
Peter Keenan 1110
Foxton Community Board
Neville Gimbett 1260
Ngaire Ellwood 1065
David Roache 1061
Basil Vertongen 901
Trisha Metcalf 740
CARTERTON
Mayoral
Ron Mark 1826
Ruth Carter 666
Carterton Rural Ward (3 elected)
John Bertram Booth 933
Grant Smith 771
Jill Vivian Greathead 693
Carterton Urban Ward (5 elected)
WJ Knowles 1197
Ruth Carter 1192
Barbara Durbin 928
Elaine Brazendale 874
Alan Eastergaard 857
TARARUA DISTRICT
Mayoral
Roly Ellis 2943
David Lea 1240
HUTT DISTRICT COUNCIL
Mayoralty
Ray Wallace 15,569
David Ogden 10,624
Western Ward (2 elected)
Max Shierlaw 2697
Margaret Cousins 2667
Harbour Ward (2 elected)
Ross Jamieson 1681
Joy Baird 1500
Northern Ward (2 elected)
Angus Finlayson 1977
Gwen McDonald 1735
Central Ward (2 elected)
David Bassett 3455
Chris Milne 2554
Eastern Ward (2 elected)
Roger Styles 1645
Lisa Bridson 1590
Wainuiomata Ward
Ken Laban 2097
Margaret Willard 1551
WELLINGTON
Mayoralty
Kerry Prendergast
Celia Wade-Brown
SOUTH ISLAND
CHRISTCHURCH
Mayoralty:
Bob Parker 68,245
Jim Anderton 51,566
(98 per cent of the vote counted)
WESTLAND
Mayoralty:
Maureen Pugh 2,076
Peter Davidson 1,283
WAIMAKARIRI DISTRICT COUNCIL
Mayoralty:
David Ayers 7415
Ron Keating 4272
Oxford-Ayer Ward
Kevin Felstead 1520
Dan Gordon 1461
Woodend-Ashley Ward
Peter Farrant 1647
Kirstyn Barnett 1479
Rangiora Ward
David Ayers 3454
Jim Gerard 2532
Robbie Brine 2333
Kaiapoi Ward
Roger Blair 2688
Neville Atkinson 2212
John Meyer 1777
MARLBOROUGH DISTRICT COUNCIL
Mayoralty
Alistair Sowman
Marlborough Sounds Ward
David Oddie
Trevor Hook
Graeme Barsanti
Wairau-Awatere Ward
Peter Jerram
Francis Maher
Geoff Evans
Blenheim Ward
Jamie Arbuckle
Jenny Andrews
David Dew
Jessica Bagge
Terry Sloan
John Leggett
Graeme Taylor
NELSON
Mayoralty
Aldo Miccio 6077
Rachel Reese 4722
KAIKOURA
Mayoral
Winston Gray 832
Stephan Rattray 302

WAITAKI DISTRICT COUNCIL
Mayoralty
Alex Familton 4,545
Oamaru Ward (6 vacancies)
Jim Hopkins 3,376
Sally Hope 2,972
Helen Stead 2,738
Hugh Perkins 2,725
Peter Garvan 2,698
Gary (Gus) Young 2,354
Corriedale Ward (2 vacancies)
Kevin Malcolm 981
Geoff Keeling 849
Ahuriri Community Board (5 vacancies) Votes Received
Cathy Ferguson 345
Michael Blackstock 304
Barry Shepherd 302
Graham Sullivan 289
Calum Reid 285
HURUNUI DISTRICT COUNCIL
Mayoralty
Winton Dalley 2682
Alex Cooke 723
Hanmer Springs (1 elected)
Michael Malthus 197
Amuri-Hurunui Ward (3 elected)
Marie Black 1045
Dick Davison 934
Jim Harre 502
Amberley Ward (3 elected)
Ross Little 800
Gary Cooper 663
Judith McKendry 630
Hanmer Springs Community Board (5 elected)
Jason Fletcher 271
Bill Clarkson 252
Rosemary Ensor 222
Chris Preston 219
Kate Poiner 178
GREY DISTRICT
Mayoral
Tony Kokshoorn - elected unopposed
CENTRAL OTAGO
Mayoral
Tony Lepper 2959
Jeff Hill 2410
INVERCARGILL
Mayoral
Tim Shadbolt 16, 275
Suzanne Prentice 5311
GORE DISTRICT
Mayoral
Tracy Hicks - elected unopposed
- NZ Herald staff