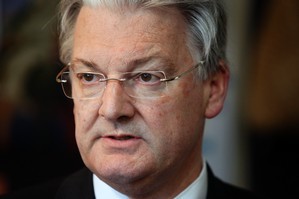 A new tax scheme with the potential to save couples with children as much as $9000 a year will be announced on Monday by Revenue Minister Peter Dunne.
Called income-splitting, it allows partners to combine their income and split it down the middle for tax purposes.
That can put each partners' income into a lower tax bracket.
It would also apply when there is one income earner in a family. When that income is split in two, savings could be significant.
Mr Dunne, the leader of the United Future Party, has wanted to bring in income-splitting for years and made it part of his support agreement with the Government after the 2008 election.
"We've promised income-splitting for a long time," he told NZPA tonight.
"It's for parents with dependent children up to age 18 and the definition of parents will be exactly the same as that used for Working for Families and other benefits - married couples, civil union couples, de facto couples."
Mr Dunne said the scheme would be voluntary.
"Because of different income levels it won't work in every instance," he said.
"They can decide whether they are better off by splitting their incomes and moving both incomes into lower brackets.
"Obviously, the higher the income the greater the saving...we have figures which show a couple splitting incomes could be better off by as much as $9000 a year."
Mr Dunne has called a press conference on Monday to announce his Taxation (Income-sharing Tax Credit) Bill.
He has guaranteed government support to get it through its first reading and expects to have the numbers after that to have it enacted.
If it is passed it will come into force in April 2012.
- NZPA