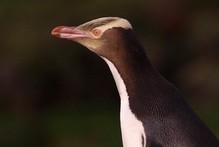 Four New Zealand penguin species are to be given protected status under the US Endangered Species Act.
The United States Interior Department will list as protected the yellow-eyed, white-flippered, Fiordland crested and erect-crested penguins, as well as the Humboldt penguin of Chile and Peru, it said today in a statement.
The US-based Centre for Biological Diversity petitioned for the protection of a dozen species in 2006, a year after screening of an immensely popular film, March of the Penguins, when the only species protected in US law was a Galapagos species.
The broadbrush approach was a bid to force the US Goverment to take action on climate change, and director of the centre's climate programme, Kassie Siegel, said at the time: "These penguin species will march right into extinction unless greenhouse gas pollution is controlled".
The New Zealand species are already protected under NZ law, and Antarctic species are protected under the Antarctic Treaty, but the US law change will mean people carrying out activities overseen by US authorities such as high seas fisheries will be liable for any harm to the listed species.
The centre said the penguins faced serious threats from climate change, ocean acidification and commercial fishing, and the protected status would also raise awareness about their threatened status, and potenitally, increase research and conservation funding.
Warming oceans, melting sea ice and overfishing have over the past 40 years cut by up to 80 per cent the amounts of krill - shrimp-like plankton - at the base of the marine food chain in some areas of the Southern Ocean where penguins forage.
Ocean acidification is also inhibiting the growth of organisms at the base of the food web, and teh centre complained that penguins drowned in commercial fishing gear and were killed by introduced predators at their breeding colonies.
In 2008, the Interior Department proposed listing seven species, including the five given official protection today.
By court order, final decisions for the African and southern rockhopper penguins are due in September 2010 and January 2011, though protected status in the USA has been refused for New Zealand's crested snares penguins.
The conservation groups plan to sue the US government for refusing to list Antarctic emperor penguins, and northern rockhopper penguins despite scientific evidence that they are jeopardised by climate change and commercial fisheries.
- NZPA