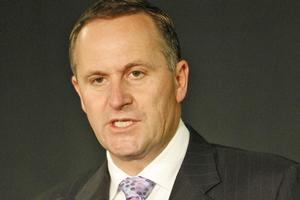 New Zealand is not prepared to extend the number of refugees it accepts and needs to address the increasing risk of refugee boats reaching our shores, says Prime Minister John Key.
Mr Key yesterday said he had discussed with new Australian Prime Minister Julia Gillard the possibility of creating a "regional processing centre" in the Pacific region.
East Timor President Jose Ramos-Horta has also been included in the discussions - fuelling expectations the centre would be in his country.
Speaking in South Korea yesterday, Mr Key said New Zealand's interest in the proposal was partly due to the prospect of boatloads of asylum seekers arriving in New Zealand.
"I'm convinced that at some point in the future we are going to have boats coming to New Zealand.
"We are a long way away and we are isolated and these ships generally speaking haven't been very large.
"But we know for a fact that a number have tried to come to New Zealand, including one that we sent a very strong message to last year."
Mr Key said he was prepared to discuss with Australia a regional solution to the issue of asylum seekers and people-smuggling.
He said he told Ms Gillard New Zealand was not interested in increasing its refugee take of 750 a year under the United Nations High Commissioner for Refugees system, nor was it interested in accepting a reduction in the quality of the refugees it accepts.
"But the solution from our perspective has to ensure that it acts as a strong deterrent for those who are engaging in people smuggling and doesn't act as some sort of magnet to increase the number of boats that are coming to Australia - and maybe one day to New Zealand."
Deputy Prime Minister Bill English told Radio New Zealand that talks with Australia had not progressed to the point of any request for resources.
Green MP Keith Locke was sceptical about Ms Gillard's proposal, saying it appeared little different from former Australian Prime Minister John Howard's "Pacific Solution" which saw refugees detained on Nauru and Papua New Guinea.
Mr Locke said asylum seekers would be deterred from trying to reach Australia or New Zealand only if they were subjected to harsh treatment at the end of their voyage, something any humane Government should avoid.
- ADDITIONAL REPORTING: AGENCIES