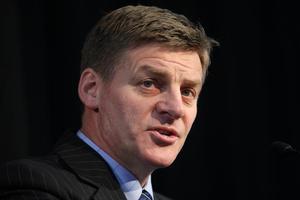 Finance Minister Bill English says the debate around compulsory superannuation will come again but it will also revive the issue of whether national superannuation should be means tested.
"The answer to that has been a big fat 'No' for 25 years.
"It is unlikely New Zealand is going to change its view about that in the next 10 years; it might change its view past that time."
Mr English was speaking to the National Party northern regional conference at Waitangi.
He said the 25 to 30 year debate about superannuation was part of the collective memory of the National Party. It had been settled with a "relatively generous scheme" by the Government out of taxation with the addition of the superannuation fund which gave people a sense of security about affordability into the future.
"No one in the world runs a scheme like that with compulsory super as well. And the political argument you'll get into is if you go down the road of a large scale compulsory scheme like Australia, then you will inevitably have to deal with the issue of whether you are going to have to means test national super."
The answer to that had been no, he said.
In response to a question from a delegate, Mr English said he had not given consideration in last week's Budget to lifting the employer contribution, though that was an option at some stage.
"What we want to do though is make sure that we are encouraging savings in all forms, not just in Kiwisaver."
He told the 300 delegates that if they were not among the 1.5 million people in Kiwisaver, they were missing out on a good deal. For every $1 they put in, the employer put in $1 and the Government put in $1.
"So if you are not in it, then you should go in it because it's the best deal on earth."