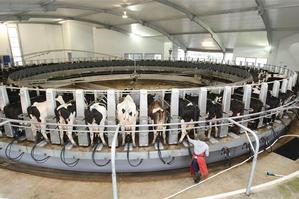 The Government's Landcorp farming operation is considering whether it might bid for 16 North Island farms formerly owned by members of the Crafar family.
Landcorp chairman Jim Sutton said Landcorp was doing "due diligence" on the farms, although a final decision on whether to submit a tender was still to be made, The Dominion Post reported.
Hong Kong-based Natural Dairy (NZ) Holdings has already put in a bid for the 16 farms, which may be worth around $100 million, and which have been in receivership since October.
Sutton said Landcorp was not looking to expand its business but the deal to sell the former Crafar farms had unique circumstances.
Those included "reputational risks" to the New Zealand dairy industry and "New Zealand Inc". There was concern in the wider community about the sale, and the Landcorp board was responding, he said.
Landcorp would probably act with another New Zealand investor if it decided to tender.
Natural Dairy's bid is conditional on agreement by the Overseas Investment Office.
Agriculture Minister David Carter upset Natural Dairy when he said at the weekend that a sale to that company was "unlikely to go through".
Carter later said that when he made the remark he did not realise Natural Dairy had signed a conditional purchase contract for the farms.
Prime Minister John Key said that after Carter's weekend comments he had a word to the Agriculture Minister warning him about commenting further on the proposed sale.
Real estate firm Bayleys was appointed by receivers KordaMentha to sell the farms, ranging from 128ha to 1750ha in size.
- NZPA