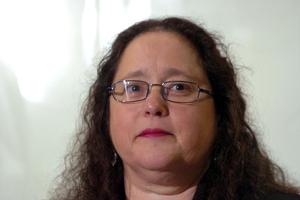 Former Immigration Service head Mary Anne Thompson avoided a potentially lengthy trial by today admitting to fraudulently using her CV to secure a senior public service job.
The 54-year-old had earlier pleaded not guilty to three charges over claims she held a PhD from the London School of Economics (LSE) - credentials she used when applying for New Zealand public service jobs in 1989, 1998 and 2004.
In Wellington District Court this afternoon, Thompson changed her plea in a deal which reduced the number of charges she faces to one and stopped short a trial scheduled for June 8.
Judge Bruce Davidson indicated Thompson could be given 100 hours community work and fined $10,000 when she is sentenced next month.
Thompson had worked in senior positions and had been offered promotions, and was therefore not in the same category as those who fraudulently claimed higher qualifications but could not live up to them in the job, he said.
Mitigating factors in sentencing would include the significant damage to Thompson's reputation, future career prospects, and finances.
The public scrutiny she had received could be seen as punishment in itself and her future in the public service looked bleak, he said.
Thompson had earlier faced two charges of using a document with intent to defraud and one of dishonestly attempting to use a document without claims of right.
At a depositions hearing last year, the LSE said Thompson was never conferred a doctorate, though it had received three bound copies of her thesis.
Court documents released at the time said Thompson had told government officials in interviews that she believed she had a PhD, but found out in 2004 that she did not.
She told police in an interview she believed "in her head" she had been awarded the degree, but acknowledged she had not been awarded either a Masters or a Doctorate degree.
Thompson's lawyer, Robert Lithgow, told the depositions hearing his client was not aware she had to go to the LSE for an oral exam to complete her PhD.
In a brief of evidence given last year, then State Services Commissioner Michael Wintringham said one of his last jobs in the role was to recommend a new chief executive for the Department of Prime Minister and Cabinet, for which Thompson was one of four short-listed candidates.
In mid-2004 he hired a consultant to conduct the interviews, who reported back that there were some difficulties in the interview with Thompson, including over her academic qualifications.
Almost immediately after the interview, Thompson advised Dr Wintringham that she was withdrawing her application.
He ordered the search consultant to halt background checks as there was no longer a mandate for further investigation.
Dr Wintringham said he accepted Thompson's word that she had a PhD and did not tell his successor about concerns she did not.
Thompson resigned from her senior position in the Labour Department in 2008 after being accused of a conflict of interest for helping her Kiribati relatives to gain residency in New Zealand.
- NZPA