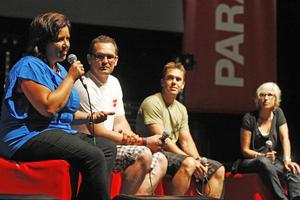 Staying home for your children may be more important than buying a new carpet, says Social Development Minister Paula Bennett.
The minister, a former sole parent who worked to support herself and her daughter, was careful not to tell anyone what to do in a debate on the family at the Parachute Christian music festival yesterday.
But she quoted a mother who gave up a "high-powered" job to go back to part-time work and spend time with her three children.
"It wasn't easy," Ms Bennett said.
"There was this awakening for her when she realised that someone else was raising her children.
"Someone else said to her, 'You are so lucky. I couldn't do it, I need new carpet in the house.'
"She said, 'I'm choosing not to have that new carpet, that second car."
The debate on the family, in which Ms Bennett spoke alongside three Christians leaders, was sponsored by the Families Commission - the first time it has been involved in such a religious event, on the initiative of its new deputy head, Parents Inc chief executive Bruce Pilbrow.
Mr Pilbrow, also a panellist, said "income-splitting", the proposal to let parents combine and halve their incomes for tax purposes, "needs to be in the discussion".
The commission was cool on the income-splitting proposal when it was first raised in a Government discussion paper in 2008, before Mr Pilbrow was appointed, because it would be of most benefit to high-earning single-income families.
Ruby Duncan, who heads the Baptist Church's Iosis Family Solutions agency in South Auckland, said parents needed to ask themselves, "Do we really have to work all these hours?"
"I have lived in the Third World," she said. She and her family spent 10 years in a slum community in the Philippines.
"We have lived with people who didn't have work and where there is no benefit system, and they can still have a really rich family life."
Greg Fleming of the conservative Maxim Institute said surveys had found that people in rich countries were not as happy as in some poorer countries.
"It's those countries that have stopped and said, 'What really matters to us in life?"' he said. "It's no surprise that family is number one."
But Ms Duncan, a mother and grandmother who has been married for 30 years, said the biggest enemy of a happy family life was not paid work - it was television.
"Families are time-poor. They are doing all these things. The problem is they are TV-rich," she said.
"Instead of spending time together, which they do have available to them, they are spending time in front of the screen.
"They are not talking to each other. How do you get on together when everyone has their faces fixed on the screen?"