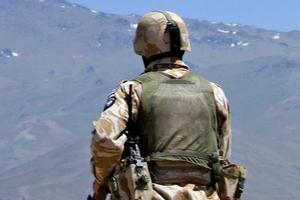 Reaction to a photograph we published this week has highlighted an unsatisfactory element of New Zealand defence policy on the use of the Special Air Service in prominent military conflicts overseas. The SAS carries New Zealand's name in to these conflicts. It is becoming our only combative presence. It represents us just as much as politicians and diplomats do, and just as we ought to be told what politicians and diplomats are doing in our name we should be told, within reasonable bounds of operational security, what our forces are doing.
Where the SAS is concerned we are told almost nothing. Twice now we have learned a little of their activities only through a casual mention in foreign media, which appear to face no such secrecy from their own national forces, even special forces.
In 2002 a German newspaper reported that the New Zealand SAS were helping to renovate buildings near Kabul.
This week it was the New York Times that let us know that "a small group of commandos from New Zealand" were the only Western soldiers involved in a battle with Taleban in the Afghan capital on Monday.
It was only then that the Prime Minister confirmed they were involved in the Monday incident that left at least 13 people dead and 70 injured. Mr Key said no SAS members had been injured and he had been advised their involvement had been "very limited".
We would have known none of this but for the Times reporter in Kabul, who was bemused to discover New Zealanders had not known their soldiers were in the city. A French cameraman offered us photographs of two of them uniformed and armed, apparently on patrol in an urban street. We published one. The picture told us something about what our forces are doing. Their appearance and their surroundings suggested they are not always engaged in the clandestine operations, often behind enemy lines, that can justify a policy of extreme secrecy for special forces.
We did not know for certain that one of the photographed soldiers was Corporal Willie Apiata VC and would not have named him if we had known. Mr Key's decision to identify him the next day was needless and unwise. Our intention was not to expose Corporal Apiata but to give the public its first sight of our forces in Afghanistan.
On the evidence of this picture and the report of the recent attack the SAS is not operating there in a mode that requires the New Zealand public to remain completely unaware of military actions conducted in its name. Yet even as he faced questions over the Kabul battle Mr Key reaffirmed the policy of blanket secrecy over the SAS.
This might be acceptable if the force was engaged solely on covert operations, not so when they are training Afghan forces, as they are said to be, or on peacekeeping patrols or caught in street battles that are part of conventional warfare. If they can be seen in these roles in an area of conflict they can be seen here.
We support New Zealand's military contribution in Afghanistan. We recognise that within our limited military resources the SAS units may be the only combat-ready force available. But if it is somehow to combine the work of a special force with normal military operations it must be open to normal public scrutiny.
The people in whose name they are authorised and equipped to fight, kill, seize and destroy have a right to much more information than successive governments have given them. We said this here in 2002 and 2005 and we repeat it now: other countries with forces in the field keep their citizens reasonably briefed on what is done in their name. We need not be kept in the dark.