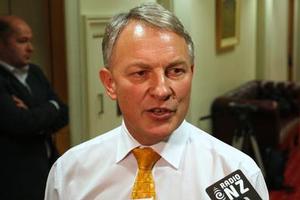 Labour leader Phil Goff has rubbished claims that his nationhood speech didn't sit well with party president Andrew Little.
Mr Goff said the issue has been blown out of proportion by the media.
"He assured me this morning that he'd told the reporter concerned that he was comfortable with the speech," Mr Goff said in an interview with Kiwi FM.
"He was uncomfortable about one thing, and that was the way it was beaten up by the media as being a Brash-style speech.
"I've got no more in common with Don Brash on race issues than I do on flat tax rates."
When asked about a reportedly mixed response to the speech from the party's rank and file, Mr Goff said the feedback he had received was "overwhelmingly" positive.
"There will always be some people that don't agree with whatever you say on anything and I'll speak out on the issues that I feel strongly about."
He said he had canvassed the caucus and discussed the speech beforehand with Parekura Horomia and Shane Jones, who had given their approval.
"You can't believe everything you read," he said.
"Some of these comments are just straight out-and-out wrong."
- NZHERALD STAFF