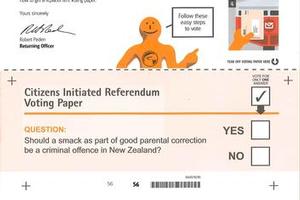 A high-powered government committee has called for a veto of a proposed referendum aimed at making citizen-initiated referendums binding.
The Legislation Advisory Committee, chaired by former Prime Minister Sir Geoffrey Palmer, says the proposed public vote should not be allowed because it would contradict the fundamental purpose of the Citizens Initiated Referenda Act 1993, which provided for non-binding referendums.
Kiwi Party leader Larry Baldock, who is promoting the vote, accused the committee of "trying to shut down democracy".
Organisers of a "march for democracy" hope to stage New Zealand's biggest-ever protest on Auckland's Queen St this Saturday to demand that the Government carries out the wishes of the 87 per cent of people who voted in August that smacking should not be a criminal offence.
The march was endorsed yesterday by Wellington superannuitant Margaret Robertson, who initiated a 1999 vote on reducing the number of MPs from 120 to 99, and by Norm Withers, who initiated a vote in the same year for better treatment of victims and tougher sentences for violent offenders after an intruder smashed his 71-year-old mother's skull.
Both said successive governments had ignored those votes.
After the August smacking referendum, Prime Minister John Key ordered a review, due by December 1, of the way police and Child, Youth and Family Services (CYFS) handle smacking cases. But he said the current law was "working as intended".
Mr Baldock, who helped gather more than 300,000 signatures to get that referendum, has now proposed a follow-up vote asking, "Should citizens initiated referenda seeking to repeal or amend a law be binding?"
Sir Geoffrey has told Clerk of the House Mary Harris, who must approve or reject final wording for the vote, that the wording is so defective that "the committee does not think that these defects are capable of being remedied".
"The proposed referendum questions [sic] appear to contradict the fundamental purpose of the Act," he said in a letter dated October 23.
"It is doubtful that Parliament contemplated that such a referendum could be held under the authority of the Act."
He said a citizen-initiated referendum could only be binding if it was carried out under a law passed in advance, setting out what would happen if the vote succeeded.
"The second question that arises is what does binding mean?" he asked.
"Does it mean that the content of the referendum is capable of displacing or amending an Act of Parliament directly?
"As a matter of legal drafting, that cannot be the case. It seems quite impossible for a citizen's initiated referendum to contain professionally drafted amendments that would be legally effective."
The "march for democracy" starts at the corner of Queen St and Fort St at 1.30pm on Saturday.
ON THE WEB
www.themarch.co.nz
CITIZEN-INITIATED REFERENDUMS - OUTCOMES SO FAR
1995: Should the number of professional firefighters employed fulltime in the NZ Fire Service be reduced below the number employed on January 1, 1995?
No: 87.8 per cent
Outcome: Firefighter numbers were cut from 1819 on January 1, 1995, to 1573 by 1998. There are now 1702.
1999: Should the size of the House of Representatives be reduced from 120 members to 99 members?
Yes: 81.5 per cent
Outcome: House remains at 120 (now 122 due to extra Maori Party seats).
1999: Should there be a reform of our justice system placing greater emphasis on the needs of victims, providing restitution and compensation for them and imposing minimum sentences and hard labour for all serious violent offences?
Yes: 91.8 per cent
Outcome: Victim impact and reparation now required, minimum non-parole periods 10 years for murder, five for other serious offences.
2009: Should a smack as part of good parental correction be a criminal offence in NZ?
No: 87.4 per cent
Outcome: Review team due to report by Decembe