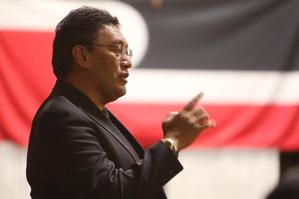 Hone Harawira skipped a meeting in Brussels so he and his wife could spend a day in Paris. Photo / Northern Advocate
The Maori Party says it is "on the verge" of disciplining MP Hone Harawira over his behaviour despite him apologising for any harm he has done to the party.
The party held a teleconference this afternoon after Mr Harawira lashed out at white people over criticism that he bunked off a work trip to visit Paris.
He has apologised for any harm to his party, but not for his actions.
In an email exchange, Mr Harawira accused "white motherf...ers" of "puritanical bullshit" for expecting him to follow the rules.
Prime Minister John Key said the Maori Party MP had a history of intemperate remarks and said he hoped the Maori leadership would deal with this one.
"Hone Harawira has made a statement that is deeply offensive to a lot of New Zealanders," Mr Key said
Maori Party co-leader Tariana Turia had already expressed concerns that his unscheduled side trip to Paris during a taxpayer-funded work trip last month would damage the party's reputation.
After the party's teleconference, president Whatarangi Winiata said in a statement it was very concerned about his behaviour in Europe and the expletive-ridden email that followed.
Prof Winiata said the actions were well short of the values and standards expected by the party.
"We are very disappointed that Hone's behaviour, and his language, fall short of expressing our kaupapa," he said.
"The party's constitution sets out a process for handling inappropriate behaviour."
The co-vice president of the party, retired Judge Heta Hingston, said if a complaint was received it would first be referred to Mr Harawira for an explanation and if this was not satisfactory the matter would be sent to his electorate.
If the response from this did not satisfy the complainant it would go to a party disciplinary committee made up of senior members.
Mr Hingston said he was not aware if any complaint had been laid.
The disciplinary committee could do everything from giving Mr Harawira "a slap on the hand with a wet rag through to expulsion".
Mr Hingston did not believe that Mr Harawira had taken part in the teleconference, but he had sent an email to the party.
In that email he did not apologise for his actions, but for any harm he had done to his party.
"I apologise unreservedly for any harm to the Maori Party caused by my choice of words in the recent email," Mr Harawira said to his party.
Mr Hingston said Mr Harawira was aware of the furore he had caused, "but who wouldn't be the way the media has got involved".
Mr Harawira skipped a meeting in Brussels so he and his wife, Hilda, could spend a day in Paris. He paid for the extra travel himself.
After this, former Waitangi Tribunal director Buddy Mikaere, emailed Mr Harawira a two-sentence message: "Gotta ask the question eh? Who's paying for Hilda?"
Mr Harawira wrote back starting his email; "Gee Buddy, do you believe that white man bullshit, too, do you?
"White motherf...ers have been raping our lands and ripping us off for centuries and all of a sudden you want me to play along with their puritanical bullshit."
Mr Harawira then went on to say how much time and energy he put into fighting for Maori and what a big role his wife played in that.
"And, quite frankly, I don't give a shit what you or anyone else thinks about it. OK?"
Mr Harawira was already in hot water, with Speaker Lockwood Smith saying he may have to pay back some of the trip's overall cost and Mrs Turia revealing she had been led to believe the reason he skipped the meeting was illness.
Mr Harawira has been unrepentant about his actions, saying he missed nothing by skipping the meeting as he had already met those attending the meeting and discussed issues with them.
He did not think he should have to pay back any money and was glad he had undertaken the side trip, saying it would have been "dumb" not to visit such a wonderful city.
- NZPA