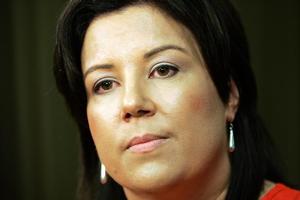 Paula Bennett. File photo / Herald on Sunday
Hundreds of readers have emailed nzherald.co.nz expressing their support for Paula Bennett's disclosure of two solo mothers' benefit amounts.
Many of those writing to the Your Views section have argued that people have a right to know the mother's benefit details as they are receiving taxpayer money.
The debate on our site's forum is shaping up to be the biggest of the year.
It has no middle ground - people either wildly applaud Ms Bennett's stand and think it refreshingly candid or cry that it breaches privacy and shows a complete lack of compassion for people who are in need.
The trigger for much of the support for Ms Bennett's stance is the amount the mothers are getting.
An Upper Hutt reader writes: "The issue that many of those who write in are missing is that no one begrudges the women their benefits.
"What they are saying is that most people in New Zealand do not have a take home packet of $37,000, and that is after working 50-60 hour weeks. It's the total lack of appreciation of other people's circumstances that belies belief in this case, not the benefits these two women are getting.
"Unfortunately there are expectations of many that the state has a bottomless pit of resources from which to fund all the services the population requires."
A Manurewa reader wonders why the women are not also getting child support payments from the fathers. "Then they could very well be making close to a grand a week! Kids are a lucrative business it would seem."
One Aucklander shocked at how much the mothers received says the system is unjust. "My aunt who has been working hard all her life and was diagnosed with terminal cancer, can't even apply for unemployment benefit as her husband is working. But with his income and the big sum she needs to spend on her cancer treatment, salary from her husband is just not enough."
A Titirangi reader is typical of those who quickly dismiss any suggestion that the Ms Bennett acted out of line and that it's a breach of privacy. "If you live off the public purse then the public have every right to know how much you are being given! Simple."
There are some asking for the Ms Bennett to reveal how much she got when a beneficiary. A Glenfield reader adds that he is "all for privacy" but when it comes to public money, "the same transparency and scrutiny should apply to welfare as it would to MP's expenses and travel." He adds: "When you have a broken welfare system, you get bludgers like this carrying on as if it was their God- given right to it."
Typical of those who decry the Ms Bennett's actions is a Weymouth reader who hopes those supporting the Ms Bennett one day find out what it's like to suffer. "I pray you all lose your jobs, can't find employment and have to go cap in hand and get on a benefit."
"The majority of the people don't like being on the benefit but unfortunately most do out of circumstance. These women are arguing that the money that was to fund them gaining a qualification has now been cut so how are they to get off the benefit?"
Social media site Twitter is also running hot with short comments about the case, many of them harsh on the Ms Bennett. They range from "Paula is a bully" to "She's an intolerable fool and her unconscionable violation of privacy indicates a deep threat to freedom of speech in NZ."
Notes one Paula Bennett critic on Twitter after reading Your Views: "I'm terribly depressed by most of the comments expressed on Herald opinion page. Too appalling to link to."
- NZHERALD STAFF