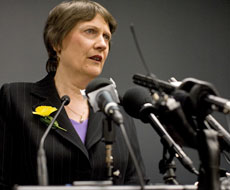 Prime Minister Helen Clark said today she thinks the Serious Fraud Office tipped off the National Party about its intention to investigate New Zealand First.
But National has now denied that and called on the Prime Minister to apologise.
National's leader John Key said last Wednesday he would not work with NZ First leader Winston Peters after the election unless he came up with "credible explanations" for the numerous allegations against him.
The SFO announced the next day that it was going to investigate donations to NZ First from Sir Robert Jones and the Vela family to find out whether they were used for the purposes the donors intended.
"I find the National Party's statement and timing interesting because I would say it's almost certain they got a tip from the Serious Fraud Office that it was about to move," Miss Clark said today on TV One's Breakfast programme.
"I challenge them directly to come clean because I think it's a very serious thing if an agency like the SFO is leaking to the Opposition."
Mr Key said Miss Clark was wrong.
"National simply didn't know about the SFO's intentions and Helen Clark should apologise to the agency for her false claim," he said.
Mr Key told NZPA yesterday he would not work with Mr Peters under any circumstances, significantly hardening his stance and changing the political landscape under MMP.
Both the main parties have in the past refused to rule out working with any of the minor parties after an election, because they might need them to form a government with a majority of votes in Parliament.
"We have categorically ruled him out altogether," Mr Key said yesterday when he was asked whether he would work with Mr Peters.
Mr Key's decision has put the Maori Party into a potentially strong position after the election.
It is expected to increase its number of MPs - it has four at present - and could hold the balance of power if National is the biggest party but does not win an outright majority.
The Serious Fraud Office says it has substantial work ahead of it as it starts investigating donations to New Zealand First.
Mr Peters and his lawyer, Peter Williams QC, have said the SFO will be able to quickly clear up allegations that donations from Sir Robert Jones and the Vela family were misused.
Mr Williams handed documents to the SFO on Saturday, saying they clearly showed the money was spent in the way donors intended.
Mr Peters said it would take about five minutes to exonerate his party.
But the SFO's acting director, Gib Beattie, said today there was more to it than that.
"We will be looking at the banking records, we obtain cheques, bank statements, deposit slips, electronic statements for each step in the chain," he said on Radio New Zealand.
"As well as looking at the money trail we look at the receipts and the movements of money and how its ultimate use was accounted for.
"We look at ledgers, spreadsheets, books of accounts. We turn over the rocks we believe are relevant and see what's under them."
Mr Beattie also said the SFO, which has four investigators on the case, will want to talk to the people involved.
He said he could not speculate on how long the investigation would take.
The SFO is going to come under intense political pressure to reach conclusions before the election, which has to be held by November 15.
Mr Peters does not want to go into the campaign with the investigation hanging over him.
Mr Beattie said the investigation involved a comprehensive reconstruction of what had happened to the money.
"Sometimes these things can take weeks or even longer."
- NZPA