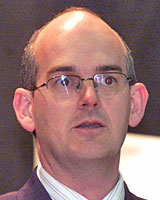 The National Party is being accused of running a secret agenda after confirming it will scrap controls on doctors' fees.
Health spokesman Tony Ryall and Party leader John Key launched a discussion document, which made no mention of doctor costs.
Mr Ryall insisted he had previously announced that National would scrap the review system which forces doctors to explain fee increases which are above the inflation rate.
"We don't support Labour's fees control system. We'll be knocking it on the head," he said yesterday when the issue was raised at the press conference.
Prime Minister Helen Clark told reporters it was "grossly duplicitous" to leave it out of the policy paper.
"The National Party's secret agenda for the health system has been flushed out," she said.
"It isn't something they wanted to talk about."
Miss Clark said the Government had spent eight years introducing the subsidy system that keeps doctors' fees affordable.
"That would be wiped away if general practice is treated like any old services that someone goes out to buy in the market."
Health Minister Pete Hodgson said without adequate controls fees would rise as they had in the case of under six-year-olds.
In the late 1990s the National-New Zealand First government had introduced "free" doctors' visits for that age group but without a fee control system.
Within a couple of years a large number of clinics had introduced a co-charge.
"If you don't have a way of capping the increase in fees that some GPs will try to run, then history tells us that fees start to increase inexorably - bit by bit, year by year - across the country."
But Mr Key said fees would not rise under National because people would have a choice and could switch doctors.
Mr Ryall said his party trusted doctors. He said they believed the Government was fixated about controlling their fees.
National's 50-page discussion document will go our for consultation before the party drafts its health policy.
Its theme is "putting patients first" and it doesn't propose any major changes to the current structure of 21 district health boards.
Among its proposals are:
* GP services in hospital emergency departments to reduce delays;
* Freeing up capacity in private hospitals for publicly-funded elective surgery;
* Clinical networks involving health professionals to assist in planning, delivering and evaluating services;
* Re-locating some hospital services to Integrated Family Health Centres which would provide a full range of services including specialist assessments by GPs and minor surgery.
The cost of the proposals has not been released. Mr Ryall has previously said they can be achieved within existing baselines.
Mr Ryall today accused the Government of trying to move debate away from the pressing issues in health by focusing on GP fee controls.
"When you're a government that's put $5 billion into the health system, (but) fewer people are getting elective surgery, fewer people are getting appointments with hospital specialists and more and more people are languishing in emergency departments, you want to talk about everything but the real issues," he said on Radio New Zealand.
He said the fees control system was unnecessary and bureaucratic and most of the fees that were reviewed were allowed.
"It's very bureaucratic. It's very cumbersome and it's taken away a lot of the good will you need with general practice in order to improve the system."
- NZPA