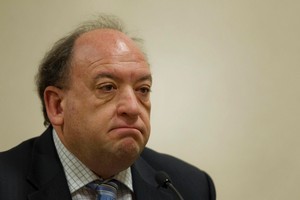 After the explosion at Pike River mine, an accident that killed 29 men, Peter Whittall became the face of the rescue operation. And I say 'rescue', because in the first few days, he stressed time and time again, that he was determined to bring the men home. He gave shattered families and a grieving nation hope. He had a kindly face and a way of explaining things clearly to the layman and woman.
We warmed to the avuncular Aussie and we trusted him, those of us who knew nothing about mines. If he said there was hope, that this was a rescue operation, then clearly there was a chance those men were alive.
But Peter Whittall turned out to be a hollow man.
Perhaps his unrealistic optimism was his way of coping with a disaster too awful to deal with, but his words and promises turned out to be false. It was left to a grim-faced police officer to break the dreadful news to the families that their men wouldn't be coming home.
We've heard damning evidence in the Royal Commission of Inquiry about the lack of safety procedures and equipment at the mine and although the Commission is still hearing evidence, the Department of Labour has laid charges against Pike River Coal, a drilling subsidiary company and Peter Whittall - the sole individual charged.
He claims he's being made a scapegoat but surely, in any company, the buck stops with the chief executive.
Whether he's guilty of breaches of health and safety is for the court to determine but successive governments also need to look hard at whether they hold some accountability for the Pike River disaster after the mines inspectorate was disestablished in the 90s.
The laying of charges probably brings no relief to families - it must be even worse for them to think that there may have been a chance for their loved ones if proper safety procedures had been followed. But if there was dereliction of duty, then people must be held accountable.
The deaths of 29 men on the job can't be dismissed as a tragic accident.