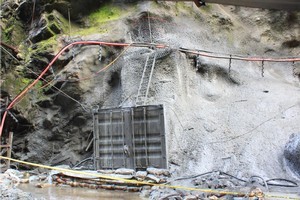 Prime Minister John Key has made it clear that any new owner of the Pike River Mine will need a credible recovery plan for the bodies of the 29 miners.
Government approval of a transfer of the mining permit from Pike River Coal to new owners would depend on a commitment to take all reasonable steps to recover the bodies trapped in the mine, Mr Key said.
"We don't believe it would be acceptable to the families or to the wider New Zealand population to have somebody credibly re-enter the mine with the purposes of taking coal out and not undertake a credible recovery of the remains that are there," he said at his post-Cabinet press conference.
"We understand potential purchasers have acknowledged this in their indicative bids and that any purchaser would commit under the sale and purchase agreement to using their best endeavours to recover the bodies," Mr Key said.
"The Government welcomes the receiver's clear expectations that any purchaser would commit to recover the bodies of the miners provided it is reasonably possible and subject always to safety considerations.
"As such the Government would expect ... any agreement to transfer the mining permit to be subject to a suitable commitment from the purchaser."
That would offer the best chance of recovering the bodies and restoring a working mine to the West Coast.
Asked if the Government would fund the recovery of the bodies, Mr Key said that if a credible plan was put to it, one that ensured the safety of those doing the recovery, the Government would consider that.
"But at this point what we are discussing is a sale and purchase agreement, headed by the receivers, and what the Government's expectations would be in meeting that sale and purchase agreement."
Receiver Malcolm Hollis said they anticipated potential buyers would share the objective of re-establishing the mine as a successful and significant employer in the West Coast.
"As part of this we expect potential purchasers will, on a best endeavours basis, both be required (under the Sale and Purchase Agreement) and wish to take all steps reasonably possible to recover the bodies."
Lawyer for the families Nicholas Davidson, QC, said a "best endeavours" clause in the sale contract offered no guarantee the bodies would be recovered but it was not without meaning.

State-owned enterprise Solid Energy has already said it is interested in buying the mine.
Applications to transfer mining permits will be considered by Acting Energy and Resources Minister Hekia Parata under section 41 of the Crown Ministerial Act.
- additional reporting NZPA