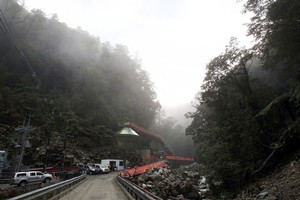 Receivers say a high cash bid could still convince them to sell the Pike River mine without a body recovery plan in place.
But Government sources say assessment of legal action aimed at making the recovery a condition of sale for the mine is "well advanced".
PricewaterhouseCoopers receivers this week admitted they have no cash reserves to drill a tunnel around a rock fall at Pike River to where the bodies of 29 men have laid since an explosion in November.
Head receiver John Fisk today refused to rule out selling the mine to a buyer who did not plan a recovery if they offered a "significant" amount more.
Receivers had to consider their legal obligations to obtain the best price for Pike River mine creditors in any sale, he said.
"We're mindful of our duty to creditors. If there's a significant difference in price then we can't just ignore that."
Mr Fisk said a clause requiring a body recovery operation was included in the recently-completed draft sale agreement for the mine.
Most of the companies who had expressed interest in buying the Pike River mine would want to carry out a body recovery operation, he said.
He did not anticipate negotiations over a body recovery being a problem during the sale process.
"There's other reasons why the purchaser would want to get into the mine. There is equipment down there."
Meanwhile, a spokeswoman for energy and resources minister Hekia Parata said there was a "will" within Government to make body recovery a legal obligation for the Pike River mine buyer.
She said Crown Law and Ministry of Economic Development officials were "well advanced" in preparing advice on whether the recovery could be made a condition of sale under the Crown Minerals Act.
Ms Parata and Prime Minister John Key had to consider the information before any announcement was made, she said.
Mr Key has previously alluded to putting the sale condition in place during the transfer of the mine license.
But Mr Fisk said Government had not told him it intended to force body recovery into the mine sale agreement.
"That has not been discussed in those unequivocal terms."
Spokesman for the Pike River families Bernie Monk said a buyer who did not make a recovery attempt would struggle to find staff.
"People round here are not going to work round guys that aren't going to have a shot at getting them out.
"The people that have left the West Coast are not going to come back and work the mine if their guys are still down there."
He called on Government to give certainty to families that a recovery will be part of the mine sale agreement.
"Legislation can be changed in the stroke of the pen to make sure its built into the contract for the sale of the mine.
"I'm confident the Government will support us."