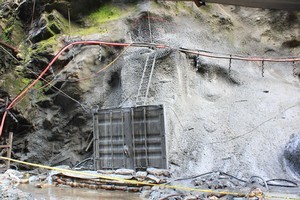 Preparations are complete for the first delicate step in re-entering the Pike River Coal mine tomorrow morning.
The gas levels had been coming down inside the West Coast mine over the last couple of weeks and all those involved had agreed it was now safe enough to go in, statutory mine manager Steve Ellis told NZPA.
It is the first effort to get back into the mine since the first of a series of explosions on November 19 last year killed 29 men, trapping their bodies 2.5km underground.
After checking monitoring and safety equipment today the teams hope to start work about 10am tomorrow, depending on gas levels beforehand, Mr Ellis said.
Two teams of six, each wearing breathing gear and working in two hour blocks, will begin surveying and checking gas levels as they begin setting up a new seal 100m in from the entrance.
Oxygen was at 2 percent in the mine, and carbon monoxide was about 300 parts per million today.
"If there is higher oxygen and higher carbon monoxide and other indicator gases then we wouldn't be going anywhere because that would be an indication of accelerated oxidation."
Mr Ellis said the spot 100m into the mineshaft - about 6m high and 6m wide - was the best place to put a seal - a pumped, cementitious grout, like expanding foam.
Once the seal is in place, which, if all going well, could take until the end of July, the gases in the mine will be monitored for about two weeks to see if the seal was working, Mr Ellis said.
Eventually a steel door will be installed in the seal and the plan is then to remove the old seal at the mine entrance, a shipping container embedded in concrete installed just after the explosions.
Mr Ellis said that next week feasibility studies would determine the logistics of a staged re-entry, carried out in similar stages. However, he did not know how many stages it would take to gain entry to the parts of the mine where the dead men's bodies are believed to be.
The miners' families have been warned the rescue mission will be difficult and could take up to two years.
Mr Ellis said many of the men entering the mine tomorrow would have been friends with the 29 men killed. However, he would not be drawn on how they were feeling ahead of tomorrow's efforts.
"Everybody at the mine and Mines Rescue are all keen to be able to get this work started and to get the first stage out of the way.
"I think they are all keen to get on and do the job they were trained to do."
- NZPA