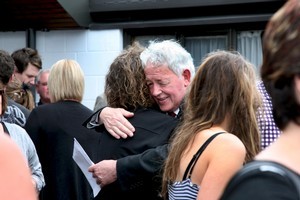 Family of the Pike River dead are accusing Government of not communicating concerns about "lax" mine safety standards leading up to the explosions that killed their loved ones.
Prime Minister John Key earlier this week told The Australian Pike River, which was a single-entry uphill mine, would not have been constructed in Australia because its design would have been illegal.
In the wake of the explosions which killed 29 men at the mine in November, Mr Key said he understood New Zealand safety standards matched those of Australia.
He has defended the statements, saying there is a difference between mine construction and safety standards.
Carol Rose, mother of dead miner Stuart Mudge, told Radio New Zealand those statements showed New Zealand Governments had been "clueless" over mines safety.
She said New Zealand miners had gone to work in Australia and found much higher safety standards.
"One young man in particular, who came back just a couple of weeks ago, was so angry at the fact that our safety standards are so lax.
"Clearly our Government was completely clueless about the standards required to protect miners in this particular workplace."
She criticised the dismantling of a mines safety inspectorate system, which she claimed could have helped prevent the Pike River explosions.
"Not only clueless but they actually dismantled the very system that was there to protect those workers.
"And that was just to save a few measley bucks. And now look at the cost incurred... for them being so lax."
A Department of Labour sector review showed the number of qualified mines inspectors dramatically declined over the past decade in New Zealand.
There was only one mines safety inspector operating in the South Island at the time of the Pike River explosion.
Spokesman for the Pike River families Bernie Monk said families should have been told the Pike River mine would have been illegal before the issue was aired in the media.
"I was a bit taken aback by that. The lines of communication should be more open."
He called for for improved mine construction and safety standards and a strengthened mine's safety inspectorate.
"We've got to make sure these mines companies don't put profits before safety."
The Engineering, Printing and Manufacturing Union yesterday called for immediate action to improve mine safety in New Zealand.
Its national secretary Andrew Little is urging the Government not to wait until the Royal Commission of Inquiry on Pike River to act.
"You've only got to do a rough and ready comparison with Australian mining regulations to know that we do things here that simply wouldn't be tolerated in Australia.
"We don't want another repeat, we don't want anybody else being put at risk."