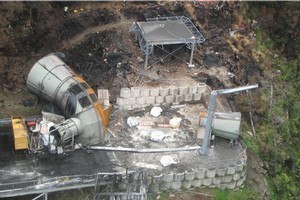 Miners around the world could blacklist the Pike River coal mine if receivers go ahead with a sale without a body recovery plan, the union which represents New Zealand miners has warned.
The Engineering, Printing and Manufacturing Union (EPMU) delivered the "sharp message" to receivers PricewaterhouseCoopers on Monday, EPMU national secretary Andrew Little told the Greymouth Star.
If the mine was sold and the receivers or the buyers did not have a plan to recover the 29 men, who were killed in an explosion in November last year, coal miners around the world would most likely react by saying "Pike River is not a mine we will work on", Mr Little said
The issue of having men still trapped inside the mine was "very real one" to workers, he said.
The head of the International Mine Workers' Federation was taking keen interest in developments and was due in Greymouth next month, Mr Little said.
Receiver John Fisk, of PricewaterhouseCoopers, said yesterday it had agreed at a meeting with families in Christchurch last week that it would use "commercially reasonable endeavours" to get an assurance from buyers that recovery of bodies would not be impeded by a sale.
Whether making body recovery a condition of sale would lower the price of the mine would be up to potential buyers, Mr Fisk said.
This comes as work to stabilise the mine, which was due to get underway next week, was delayed due to gas levels in the mine.
Gas levels would be reviewed next week and work allowing rescuers to eventually tunnel past a rockfall to where the 29 miners were killed would begin the following week if the levels were safe, Mr Fisk said.
The EPMU would be meeting with receivers again next week.
- NZPA