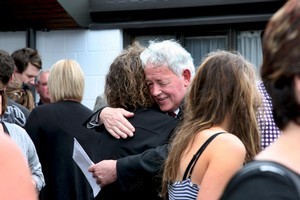 Frustrated families of the Pike River dead are looking to take over responsibility for recovering the bodies of their loved ones.
Lawyer Nicholas Davidson QC today said the families were putting together a team of experienced mine rescue experts to create a credible plan for retrieving the 29 men still buried in the Pike River mine.
A meeting between families, receivers, police and mines rescue on Monday showed receivers never had any intention of planning a recovery, he said.
"From the moment police handed the mine over the receivers, nothing has happened.
"We are not waiting any longer for the company or the receivers to produce such a plan because they have done nothing... the only interest they have is an economic one.
"Families are going to ensure a plan is now developed by someone other than the receivers or the company."
Prime Minister John Key told media there was not yet a credible plan to get bodies out of the Pike River mine in the wake of the Monday meeting in Christchurch.
Mr Davidson said the families' experts would be able to create one in months, with the support of receivers, police and Government.
He threatened to take "any necessary action" to prevent the Pike River mine being sold without a new owner committing to a recovery plan.
"If that doesn't happen then those who believe that it should have happened are going to take proper steps to make sure it should have happened."
Spokesman for the families Bernie Monk said a recently announced delay to stabilisation work at the mine showed why families were looking to take over the recovery.
Receivers could have begun sealing work at the mine portal months ago - when the mine was stable and weather conditions were fine, he said.
"They've just put it off and put it off. It was about making a sale. They never cared about the families - otherwise they wouldn't be treating us like that.
"It makes us look like a moaning pack of so and so's when all we want is the truth and to get the guys out of there. We've been put in a position where we're going to have to fight and we'll fight to the end."
PricewaterhouseCoopers receiver John Fisk said receivers had been working to stabilise the mine for two and a half months.
That work had been delayed by mines rescue staff having to commit to other jobs and bad weather, he said.
"It's not the case that we have deliberately slowed any process down or deliberately sat on our hands. That's definitely not the case.
"As I've always said our focus is very much on getting the mine stablised. Until you've achieved stability you can't achieve recovery. You can't go into a mine that is not stable."
He called for families to work together with receivers to come up with a recovery plan.
That was agreed in the Monday meeting between all those with a stake in what happens to the mine, he said.
"We're very open to co-operating together. We're all committed to coming up with a recovery plan."