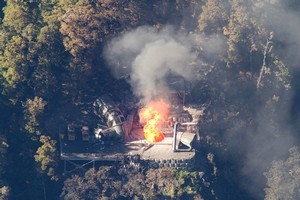 Work to re-enter the scene of the Pike River mine disaster will be delayed due to dangerous high gas levels.
Tests as part of the mine stabilisation plan revealed high gas levels, mostly carbon monoxide, PricewaterhouseCoopers partner and receiver John Fisk said in a statement.
The delay of at least a week provides more heartache for the families of the 29 miners who died in a series of explosions last November.
"We have been advised by the experts involved, the increased gas levels make it too unsafe to start work," Fisk said. "This is a temporary setback but we realise the delay is frustrating for all those parties involved."
"Ensuring everyone's safety is our paramount concern. We're committed to stabilising the mine and will continue to monitor gas levels and reassess the situation in the middle of next week."
"We have informed the families of the 29 men and will continue to provide updates on any further developments," he said.
- Herald Online