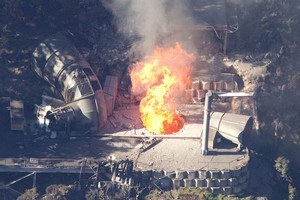 Greymouth District Mayor Tony Kokshoorn has called for plan to be put in place to recover the bodies of the 29 men trapped in the Pike River mine, as families of the victims meet with rescue authorities in Christchurch tomorrow.
The meeting with police, mines rescue staff and the mine's receivers comes amid increasing frustration by the families that no retrieval operation has been launched following the release of videos showing possible bodies inside the mine.
Mr Kokshoorn said the receivers were focused solely on stabilising the mine and readying it for sale, not on recovering bodies.
"They have a stabilisation plan...but what we need in tandem with that is a recovery plan," he told the Sunday Star Times.
"We need a think-tank of stakeholders to come up with a plan to get the bodies back to the families.
"We need to quell the anguish the families feel."
Rescuers say it is still too unsafe to enter the mine to recover the bodies of the workers who died during a series of explosions in November last year.
- NZPA