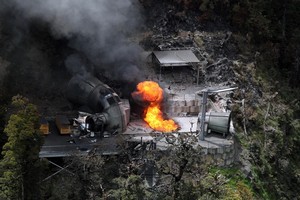 Pike River Coal's receivers are using new tactics to establish the extent of damage in the mine which will be formally put on the market next week.
They say they want to have the damaged mine sold by the end of June.
So far five robot vehicles have been lost in the tunnel leading to the coal seam where 29 men died after explosions deep in the mine last November.
Relatives of the men have called on the receiver's workers to enter the mine to recover remains or "stand aside" but receiver John Fisk said it was still too dangerous for people to go in.
Methane levels in the mine are around 90 per cent and nitrogen - which has been pumped into the tunnel - was at about 90 per cent.
"It's not air that you can breathe and if you introduce oxygen it could explode again. We're taking advice from the mine rescue group and they're telling us it's not safe to go in there at the moment."
It was hoped that at the weekend a bore hole to the mine area would be finished to allow laser monitoring equipment to be lowered into it.
It was planned to lower the equipment into the pit bottom area next Wednesday.
"We believe there's been a fairly significant rock fall at that point and the reason why we were attempting to get robots in the mine was to see how significant it was."
Sending the machines up the mine has so far failed.
Two army robots were lost in damp conditions in the mine during initial rescue effort; three weeks ago a Water Corporation of Western Australia vehicle made it 1600m up the tunnel before running into an abandoned loader; and a smaller machine that it deployed then short-circuited.
Last week another Water Corporation robot got snagged on its fibre optic cable 500m into the tunnel.
"Unfortunately we had to abandon that one as well. It's very, very frustrating for the people down there. It makes it difficult for the staff who are effectively being criticised for the work they're doing. They're doing their best," Fisk said.
Advertising will start in Australia next week and companies that could be interested are being contacted. About 120 different industry contacts are being targeted.
State-owned Solid Energy has declared itself interested and said it was prepared to spend up to $100 million on a concept plan to resume mining at Pike, in the Paparoa Range inland from Greymouth.
"We're pleased Solid is interested naturally but there are a number of other parties as well showing interest," Fisk said.
The Pike River company had planned to mine about 19 million tonnes of coal over 20 years which could have fetched about $6 billion.