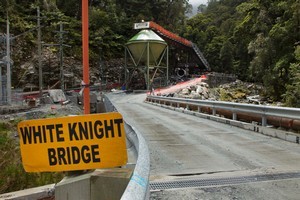 Pike River receivers say they have had around a dozen unsolicited expressions of interest in the mine - most from overseas - although an analyst warns that any buyer will need very deep pockets.
Receiver John Fisk said no one could enter the mine but footage taken from an unmanned vehicle being sent up the tunnel in the next few days would provide information for potential buyers. Explosions in the mine near Greymouth last November killed 29 men and resulted in the mine being sealed.
The mine was formally handed over to receivers PricewaterhouseCoopers on Wednesday although Fisk said police would still be responsible for body recovery.
"We want to see how much damage is up there and what the prospects are of getting access to the mine.
"Now we've got some certainty with the handover we're looking at a sales process," he said.
He would meet Pike River managers next week to establish the sale process. The licence for up to 60 million tonnes of high grade coking coal was the project's most valuable asset and besides the damaged tunnel there there was undamaged associated plant and equipment.
Pike River had planned to mine about 19 million tonnes of coal over 20 years which could have fetched about $6 billion.
Fisk said any buyer would need a new mining method.
The single roadway tunnel driven up under the coal seam is still filled with methane gas of concentrations of up to 97 per cent three months after the explosions.
"It's likely a buyer would like to have two accesses to the mine.
"My understanding is that's international best practice these days."
Even though the mine is on Department of Conservation land next to a National Park, there had also been discussion about open cast mining as well. Possible buyers include steel makers who want to guarantee supply of coking coal as well as mining companies, Fisk said.
James Smalley, an analyst for Hamilton Hindin Green, said potential buyers had to assess whether the coal was too difficult to access safely. An open cut operation where overburden stays on-site was expensive but with high coking coal prices could be economic.
In Australia, some Chinese steel makers had bought into iron sands companies and may be looking to do the same with coking coal operations.
"A lot of these guys are trying to become self sufficient."
Pike River's Indian coal company shareholders with a combined stake of 12.6 per cent could be a complication in blocking a new buyer or could step up to the plate themselves.
Close to $300 million had been spent on the mine which had just started to produce coal, months behind schedule.
A royal commission of inquiry will determine what caused the disaster and was due to report next year.
Fisk said this would not necessarily delay any sale.
"The potential purchasers out there now have said they don't need to wait for the outcome."