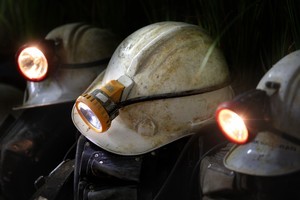 Pike River receivers say they have already received interest from prospective buyers of the mine.
Police have handed over the mine to PricewaterhouseCoopers, which will continue with the plan to stabilise it, in the hope of being able to re-enter it at some point.
Receiver John Fisk said he has had a number of parties interested.
"They were unsolicited approaches," he told Newstalk ZB.
"We actually haven't gone out and formally asked for expressions of interests but that would be our next step."
Fisk said selling the mine means he can offer more certainty to potential investors.
"One of the next steps for us will be to look at a plan to call for expressions of interest from parties that may wish to invest in or purchase the asset," he said.
John Fisk said there was $6 billion worth of coal in the mine, so it was a valuable asset.
Fisk said the mine would be handed back to police if the recovery of bodies becomes a possibility.
He said PWC's responsibility is to recover the money lent to secured creditors. He said the body recovery operation is the responsibility of the police and that operation stopped some time ago.
"If we can to a position where evidence or body recovery becomes a possibility again, then that task will be handed back to police," he said.
Fisk said the families of the 29 miners will be told if re-entry into the mine is possible.
He said one of the next steps is to send a robot from Western Australia up the mine shaft over the weekend or early next week.
Grey District Mayor Tony Kokshoorn is encouraging the receivers to do everything they can to recover the remains of the men.
"I think it's a moral obligation from the receivers now to go back to their shareholders to find the cash to enable that recovery to happen."
Tony Kokshoorn said the families are still grieving, and will not be able to move on until they get their loved ones' remains back.
He said it would be good for everyone if the receivers work to reopen the mine.
Kokshoorn said the government's borrowing $250 million a week, and the Christchurch rebuild's expected to cost 15 billion.
"We have huge mineral here on the West Coast so it is just common sense and a no-brainer that you will actually make sure that mineral wealth turns into wealth for the country."
Tony Kokshoorn said Pike River mine has between $6 billion and $10 billion worth of coal.
- Newstalk ZB