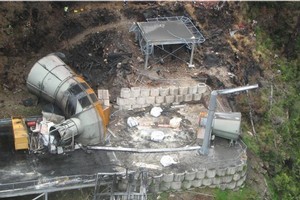 The families of the 29 dead Pike River miners have been shown video pictures from within the mine.
Grey District Mayor Tony Kokshoorn says the lengthy footage showed the severity of the blast.
He says the cement paper-type coating on dust bags was still intact.
"There was a wooden crate sitting there and it's not even charred at all. There was other big drums which haven't been moved but there are other incidences where ladders have been flipped over and some parts of ceiling which have collapsed onto the floor," he says.
Police say the footage shown today was taken well away from where any miners were believed to have been, at the time of the initial explosion.
- NEWSTALK ZB