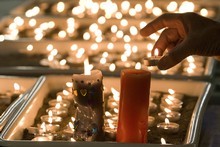 A third robot that has gone 1575m into the Pike River coal mine has detected debris and destruction in the main shaft that indicates Wednesday's explosion was much more violent than the first one last Friday, mine boss Peter Whittall says.
Mr Whittall spoke at a Pike River press conference this afternoon.
He has asked people in Greymouth and around the country to observe a minute's silence at 3.44pm today - one week after the initial blast at the mine.
Mr Whittall said he and Superintendent Gary Knowles would assemble with emergency services and rescue teams at the mine site in just over an hour to pay their respects.
He said local iwi had performed a karakia at the mine site this morning, a moment he described as "powerful".
Policeman who led rescue operation applauded
Earlier today, families of the 29 men who lost their lives in the Pike River mine applauded rescue operation head Superintendent Gary Knowles after he spoke to them today, Police Minister Judith Collins says.
Mr Knowles, the Tasman police district commander, has been the subject of criticism from some who believe the rescuers should have been allowed to enter the mine after the first blast last Friday.
But Mrs Collins told media today that she took the families' applause as a sign of their appreciation for Mr Knowles' work.
"I would like to think it is a sign it is a sign of appreciation because they know that he shares a great deal of their pain and that he has to lead a very difficult matter in the most extraordinary circumstances and with every armchair expert in the country... telling him how he should have been doing this and that.
"But actually he has done the right thing," she said.
When the families were told a national memorial service for the miners had been confirmed, the families also applauded, Mrs Collins said.
Prime Minister John Key this afternoon confirmed the Pike River Official Remembrance Service memorial service would be held next Thursday.
In a statement, Mr Key said the service would be held at Greymouth's Omoto Racecourse on December 2 at a time to be confirmed.
"This is a chance for New Zealanders to gather together to remember and mourn the men who tragically lost their lives in one of the nation's worst disasters," he said.
Grey District Mayor Tony Kokshoorn said it would be a fitting remembrance service that should last about an hour and a half.
Anglican Archdeacon Robin Kingston yesterday said the service would be important in the healing process.
"These places where you gather allow people to collectively mourn, support one another, experience some of the pain and grief and shed some tears.
"It helps people come to terms with the fact this is a tragedy and people have died."
More than 5000 people are expected to attend, including Mr Key and dignitaries from NZ and overseas.
Archdeacon Kingston said the miners' families would have their own services when they were ready.
Smaller services will also be held throughout the country to allow all New Zealanders to mourn.
Nation mourns
The first church service for the grieving families of the miners was at the Holy Trinity Anglican Church in Greymouth on Wednesday night.
Twenty-nine candles, one for each of the lost men, flickered as the relatives consoled one another, the evening setting the tone for other services.
A service is planned for Christ Church Cathedral in Nelson at 6pm tomorrow, and another at Te Papa in Wellington.
A book at the Grey District Offices has a message from the Government which reads: "They leave behind family and friends and a void that can never be filled. We remember them, salute them, and we will miss them. May they rest in peace, never forgotten."
Condolence books have been placed at the Auckland Town Hall and many libraries throughout the region.
Books are also in the Grand Hall of Parliament, in Invercargill at the Civic Administration Building, in Te Anau at the Lakeside Presbyterian Church and in Nelson at Christ Church Cathedral.

HOW TO DONATE
THE PIKE RIVER RELIEF FUND
Bank: Westpac, ANZ, National Bank, or BNZ Bank branches
Credit: 03-0846-0167234-00
Phone: Text 306 to donate $3 automatically
Post: Grey District Council, PO Box 382, Greymouth 7840
Online: givealittle.co.nz/cause/pikeriver
THE PIKE RIVER MINERS' RELIEF FUND (Started by Pike River for the families)
Credit: 06-0501-0121759-02
Post:Pike Miners' Relief Fund, PO Box 2793, Wellington.
EPMU PIKE RIVER MINERS FAMILY SUPPORT TRUST
Half the funds will be donated to the Grey District Council's fund and half will go to a dedicated fund for the education of the killed miner's families.
Bank: Kiwibank
Credit: 38-9011-0165987-00
Post: Care of EPMU, PO Box 14-277, Kilbirnie, Wellington 6241.
PARENTS CENTRES NEW ZEALAND FUND (for families of miners who were soon to be fathers or had small children)
Direct credit 12-3142-0161284-01
Post: Pike Miners' Relief Fund, PO Box 2793, Wellington
BANK FUNDS
Donations at branches or by direct credit
ANZ: 01-1841-0052483-00
BNZ: 02-0844-0074501-00
ASB: 12-3205-0146728-00
SUPERMARKETS
Countdown, Woolworths and Foodtown are collecting loose change or adding a donation to grocery bills at the checkout.
- Amelia Wade and NZ Herald staff
By Amelia Wade

Email

Amelia, Michael Dickison

Email

Michael