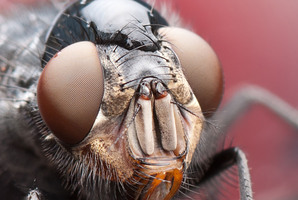 A fly with a water droplet balanced on its head features in an incredible up-close-and-personal series of pictures of bugs in amazingly sharp detail.
Most of the pictures were taken at a makeshift photo studio inside a jewellery factory in Bat Yam, Israel.
Photographer Dmitriy Reinshtein, 26, spent hours waiting for that one special shot and insisted it was no easy task.
He said: "Patience is one of the most important ingredients in macro photography and I believe that if I send the creatures some positive energy, they will stay still long enough for me to get the perfect shot. That and holding my breath."