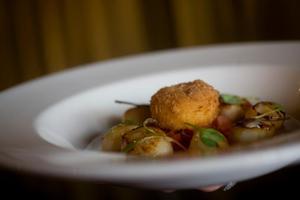 I do admire engineering ingenuity. At Two Fifteen, six or so of the two-person tables in the main room can be slid together to make one large table. Nothing new in that, you might think, but these tables are attached to a steel I-beam (a beam with a cross-section in the shape of an I), so that they roll together easily without table legs getting in the way of diners. Very clever. And economical.
Economy, not to be confused with meanness, is a watchword at Two Fifteen. The bistro opened early in the year, when signs of a reduction in restaurant dining were loud and clear. Owner and chef Jeremy Schmid made the decision to price his meals accordingly, and so they have stayed. No main is over $30, and a good selection of the wines can be ordered by the 500ml decanter as well as by the glass or bottle.
Two Fifteen was most recently Banh Mi Bale, a Vietnamese sandwich shop now in Lorne St. The fitout includes blacked-out lower windows (think the French Cafe and Meredith's, just up the road), mushroom walls, wooden floors and a combination of banquettes and bare tables.
The night we go the place is warm in both temperature and welcome. We have a choice of table, as we're the first diners to arrive, but others trickle in later, including occupants for the magic sliding table.
Our waiter, Keith, is efficient and knowledgeable. Water arrives with the menus, and he then speedily attends to the essentials - Stella for Bill, and a decanter of Kumeu River sauvignon blanc ($27) for me.
The menu is short, but that doesn't make decisions easier. Bill settles on sauteed scallops with polenta disk and beurre blanc ($17.50) and I go for the air-dried beef with truffle potato and poached egg ($15.50). The scallops are served at room temperature, which is a bit disconcerting, but sweet and tender and plentiful. I expect the beef to be chewy, like salami or jerky, but it's tender, with none of the beef flavour lost in the delicate slices. The combination with potato and egg make it a bit breakfast-y, but in a good diet that's the most important meal of the day, right?
Bill's eye is taken by another entree offering, braised oxtail tartlet with field mushrooms, carrots and a port jus, but he doesn't want to go away hungry. Keith offers to make the dish main-sized ($29.50) and it's just right. Better than that, in fact - stunning, Bill says, the oxtail falling apart and plenty of vegetables to soak up the juice.
Tonight's blackboard special is confit duck, with potato, spinach and an apple and ginger chutney ($29.50). The duck, I am assured, has been marinated for 24 hours and cooked slowly for nine, and it's wonderful. The chutney is a perfect foil for the robustness of the duck.
We forgo dessert in favour of cheeses and port, rounding off a very fine meal.
Jeremy and his crew make a lot of the food they serve. The air-dried beef comes from their cellar, along with smoked salmon, sausages, breads, stocks for reduction to sauces, and the quince paste that accompanies the cheeses.
Two Fifteen is a worthy addition to the Dominion Rd eating strip, and a darn sight better than some. Go there at once.
Rating out of 10
Food: 9
Service: 10
Value: 8
Ambience: 7

Our meal: $182.50 for two entrees, two mains, cheese and ports, wine and beers.

Wine list: Largely New Zealand wines, with a few imports as required. The decanter is an excellent point of difference.

Verdict: Fine bistro food beautifully cooked and presented. Don't just keep this place for special occasions, make it your local.