Documentary making is in its prime. Peter Calder picks some of his favourites from this year's Documentary Edge Festival.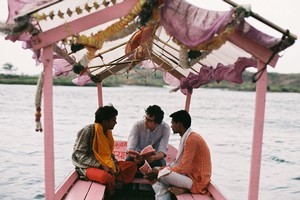 It has become axiomatic to say that we are living in a golden age of documentary film.
And it started because three things happened at roughly the same time: mainstream cinema became more effects-heavy and story-light; network television virtually abandoned its documentary duty; and digital video suddenly meant a film-maker could get into business for the price of a mid-range used car.
The results are everywhere to enjoy, not least in the Documentary Edge Festival, the sixth iteration of which opens in Auckland next week and Wellington next month.
From small beginnings, the festival is now fully fledged, an 18-day, 64-film affair that includes work from big names (I'm not optimistic that Oliver Stone's take on Venezuela's Hugo Chavez will be less adulatory than John Pilger's but we live in hope) and small players. The programme, together with the selection at the midwinter festival, means documentary lovers are now well served.
Worth remembering is that the vast majority of these will never show up on a cinema or TV screen or even in a video store near you. My advice: get a programme and fill your boots.
Standouts among the dozen or so I've managed to preview:
American Radical: the Trials of Norman Finkelstein (USA)
The problematic character of this Jewish-American intellectual and activist was a small and faintly tragic sub-plot of Yoav Shamir's Defamation, which was in the same festival last year. Finkelstein, whose parents were the only relatives of his to survive the Holocaust, is a passionate critic of Israeli treatment of the Palestinians, and is given to accusing those who perceive anti-Semitism of "pathological narcissism". This film was described as "incendiary" by Michael Moore which may or may not be a recommendation depending on your point of view. It is certainly an engrossing portrait of a conflicted and polarising figure. "I'm not easy to get along with, I know that," he comments at one point and goes on to demonstrate that by picking fights he cannot win over details that don't matter. The film is a chilling reminder that, in the country where freedom of speech is guaranteed by the Constitution, a man can be marginalised for airing views which, if challenging, are scarcely renegade. Highly recommended.
Enemies of the People (Cambodia)
The fact that documentary's new age has delivered storytelling power into the hands of the dispossessed could not be more sharply demonstrated than by this riveting film, made on weekends over a decade, by Cambodian journalist Thet Sambath. Never letting slip the fact that he lost his family in the so-called "killing fields" - the slaughter of two million by Pol Pot's Khmer Rouge in the 1970s - he tracks down, wins the trust of and interviews some of the perpetrators of the massacre. Some of the memories he elicits are bone-chilling - "I slit so many throats my hand ached," says one former guard, demonstrating the technique on a giggling volunteer - but it is more a detective story than a precise documentation of the horrors. As Thet treads the land in which the bodies are literally buried, he gathers testimony that amounts to a process of national remembering. Not simply because he finds Pol Pot's right-hand man Nuon Chea, aka Brother Number Two, this film is a landmark in documentary film-making.
David Wants to Fly (Austria, Germany, Switzerland)
David Sieveking, the geeky director and subject of this first-person documentary can be as irritating as he is charming and his decision to incorporate his personal romantic life into the narrative is an error, but as a study of the more ludicrous excesses of the global business known as Transcendental Meditation, it's a cracker, an alternately hilarious and sobering study of credulity and greed. It'll give you a whole new outlook on David Lynch, too.
Mrs Carey's Concert (Australia)
It's been 10 years since we've heard from the terrific Aussie documentarian Bob Connolly (not to be confused with Robert, who made The Bank and Balibo). In part, no doubt, that's because he lost his creative and life partner Robin Anderson to cancer in '02, just after the release of Facing the Music about the meltdown of a university music school. This film is not up there with their Rats in the Ranks - for my money one of the top five docos of all time - but adopts the same patient fly-on-the-wall approach to come up with a perfectly modulated film, both dramatic and funny, about preparations for a school concert. Improbable material; extraordinary result.
Into Eternity (Denmark, Finland)
Food for thought here for those, like James Lovelock of Gaia Hypothesis fame, who say that only nuclear power can halt global warming. Danish director Michael Madsen (not to be confused with the Reservoir Dogs star) explores, literally and conceptually, an underground nuclear waste depository being constructed in Finland. The first such attempt, it is intended to last, undisturbed, for at least 100,000 years. The risks attendant on such an ambition would be material enough for a film, but Madsen brings a cineaste's sensibility to his story and creates a film that is both an enthralling meditation on mortality and an astounding visual experience.
Keep an eye out for:
If God Is Willing And Da Creek Don't Rise, the four-hour sequel to Spike Lee's magnificent and angry When the Levees Broke, which played in the '07 festival, is an equally passionate and magisterial look at New Orleans five years on, revealing a climate of mistrust, incompetence and corruption. It'll give you a whole new outlook on Brad Pitt, too.
El Bulli - Cooking in Progress certainly tells you all you want to know about the famous restaurant, assuming that you can take seriously a cocktail made of hazelnut oil, water and salt.
Hey, Boo is a great portrait of the legendary recluse Harper Lee, writer of To Kill A Mockingbird, which, among other things, makes it plain that we have her to thank for most of Truman Capote's achievements.
And Budrus, a small and inspiring story of a West Bank village that confounded the might of the Israeli army by entirely peaceful demonstrations, is the latest in a stream of excellent fiction and non-fiction cinema that anatomises the conflict in Israel and Palestine.
-TimeOut