As the daughter of TV's Hinemoa Elder and Paul Holmes, she grew up in the public eye. When she became involved with drugs, her fall was all the harder. Now, in her first full interview since her father's death, Millie Elder-Holmes tells one of her closest friends, Pebbles Hooper, how she is rebuilding her life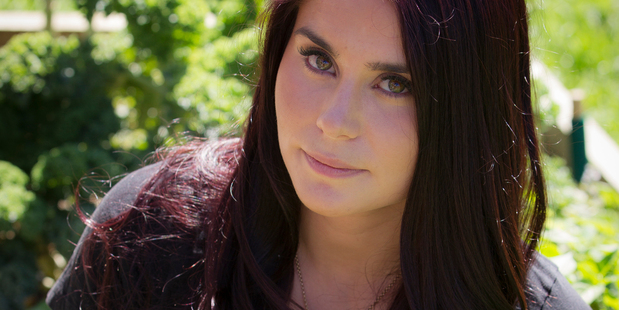 Try, if you can for a minute, to remove any preconceived ideas about people you read about in the media that you've never met. Whether those thoughts about the individuals are good or bad, it's hard not to pass judgment when it's laid out for you on nice glossy paper.
Growing up in the public eye comes with its benefits and its downfalls. New Zealanders are a polarising society, we love to root for the underdog, but we also love to scrutinise and cut down tall poppies at the slightest opportunity.
Millie Elder-Holmes has experienced the extremes of both of these. She has had her share of personal struggles and had to fight her demons in front of the public eye for many years.
Millie is 25, I'm 24, and I've known her most of my life. Throughout the years I've shared with her, I've never seen her so confident, content and, quite frankly, glowing.
The change from the Millie I knew a few years ago is outstanding, and a huge inspiration to see someone so driven to make positive changes in their own and other people's lives.
Sitting with her on my balcony in the sunshine, it's hard to get the interview started.
Millie and I don't see each other as often as we'd like and, with her new projects, I suspect these vast time periods between our engagements will only get bigger.
But, for now, it feels like no time has passed at all. Her laugh is infectious, her wit is fierce and she has an incredible memory.
The first hour was spent remembering our early teens at Junior College (now known as Parnell College). Millie is a year older than me but a year at school is a lifetime of experience for early teenagers.
I looked up to Millie throughout these years. She was hardly in the running for school prefect. Her reputation throughout Newmarket was one not to be messed with.
Although she challenged most teachers, and some students, she pulled in high marks and maintained loyal friendships with those close to her, including me. With everything she has changed in her life, she is still the witty, sharp-tongued, formidable girl I've always known.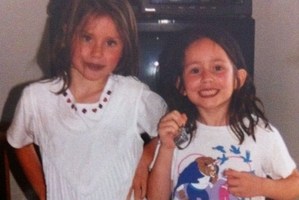 My earliest recollections of Millie and I were when we would spend Christmas together at her large family home in Remuera.
Her mum, Hinemoa, would be in the kitchen cooking up a feast, her stepdad, Paul Holmes, would be singing in the ballroom by the piano or entertaining by the pool, and Millie and I would be teasing her younger brother, Reuben, and getting into trouble for it.
We laughed about her 5th birthday at Kelly Tarlton's. While we played together and enjoyed the aquatic life, Paul got into an almost physical altercation with the manager - while Paul was dressed in a plushy shark costume with his head poking out through the mouth. This ended in him being banned from the establishment!
Millie has always been surrounded by loud, articulate, intelligent and charismatic people and, as a child, she was constantly stimulated by some of the most exhilarating personalities, which I feel must contribute to her outgoing and fearless nature today.
Since Dad passed away, I've really gained perspective. Things that used to bother me in the past now really don't at all, and I'm so much more positive about life.




During Millie's darker times, I didn't see much of her, but from what I read in the media, I grieved for an old friend. Understanding addiction and mental battles was a struggle for me, and part of me had no idea how someone would make it out the other side - I had read all the stories in the media like everyone else.
But, thankfully, that strong girl I knew pulled through and no addiction or toxic substance would keep her down.
"Looking back, I cringe," Millie told Metro magazine after the last drugs charges were dropped. "I just think I was a bit of a shit, to be honest. I was emotionally dead inside. You don't have any respect for people when you're on drugs, you don't care about anyone else.
"As a parent, you need to understand you're not dealing with your child; you're dealing with your child on drugs, who doesn't give a shit.
"I didn't care about anyone else but myself."
She said she would not have won the battle with P without longtime partner Connor Morris. They eventually became clean without professional help by living a hermit-like existence, eating, sleeping and watching television, in their West Auckland flat.
After four years of a drug-addled lifestyle, the first three months were hell, she said. "It was horrible. Really horrible. You get really fat. I went from 55kg to 85kg," she told Metro.
As a friend, I was scared for her at the time but now I understand how she pulled through.
Being the offspring of broadcasting royalty Paul Holmes and Hinemoa Elder, Millie had been destined for greatness from the beginning.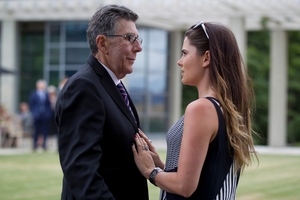 "My Dad did everything 100 per cent," she explains to me. "If he started something, no matter what it was, he would do it to the fullest and complete it."
Since Paul's death in February last year, Millie has had a major overhaul of her life, choosing to leave her job at the Chamber of Commerce to focus on her passion for clean eating and healthy living, a lifestyle she now shares on her widely followed Instagram and Facebook pages.
Millie has never been one to chase media attention, but her huge profile has been an inevitable part of her life, and Millie understands that the public can be extremely quick to judge.
"Dad always made me very aware that people would always be watching what I was doing and pick on what I was saying.
"But now that I'm older I understand how the media and attention can work to my benefit."
So here's the product plug: with the introduction of her new healthy lifestyle business, Millie has also become an ambassador for Tailor skincare, a New Zealand-made, cruelty-free and organic skincare range.
"Your body is like a machine - you get out what you put in. Whatever problems you have with your body on the outside, you can fix by what you put into your body. Since Dad passed away, I've become very aware of this."
The likes of nutrition specialist Dr Libby, and chefs Cynthia Louise and Hugh Fearnley-Whittingstall have been huge inspirations for Millie's approach to help people take on new lifestyle changes. Her own approach, though, is much more accessible.
"I'm not a chef, I'm not a qualified nutritionist, I am just trying to get healthy and lose weight and make it easy for people to do the same.
"When I first started trying to lose weight, I had no idea where to start. I emailed friends and asked them what they do, they'd email me back saying, 'Oh, just go to the gym and eat healthy'."
Millie thought, "That helps me nothing".
"So I thought to myself, 'There needs to be somewhere you can go where it tells you what to eat, and you could try it to see if it works for you, instead of paying $80 for a fitness programme you may never even use'."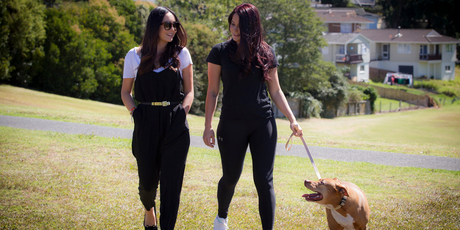 Understanding that not everybody has the culinary abilities she possesses to prepare an extravagant fine-dining experience, her research into food and diet has given Millie some tools to give people ways to introduce the new programme into their lives.
"Just go on to the page, check out the tips, check out the recipes," she explains. "If you don't know how to poach an egg, I'll show you how to poach an egg. If you want to eat bread but you don't want the carbs, I have a recipe that's made out of egg and tastes like bread. I've made it easy."
Millie also includes some inspiration from family recipes. "Paul had a couple of good recipes, like ribs, that we all loved. His partner, Deborah, makes an amazing eye fillet wrapped in prosciutto, and my Greek father is an amazing cook.
"He tells me my grandmother was a great cook as well. When visiting him in Greece last year, he taught me some family recipes like slow-cooked octopus in red wine sauce, which is beautiful.
"My mum and her partner, Patrick [Griffiths], are quite good cooks, too. Patrick has studied as a chef and baker and he makes bread under his label Ringawera.
"He just won a cuisine artisan award for his products, and mum makes amazing food so I definitely take some of that influence from my family."
Millie also gets stimulation from the people surrounding her personal life. Her partner of six years, Connor Morris, has been with her through her darkest periods.
"Connor is my biggest fan," she says. "He gets so excited and proud of me for my page."
The two recently took their first OE together, travelling to Asia, Dubai, Italy, Paris, Amsterdam and, of course, Greece, before Millie got into the thick of her new projects and started back at university.
Home in West Auckland has become a haven for the couple.
"It's a great break from the city. I can drive to Kumeu and get the freshest produce every day, or the Hobsonville markets, which are like the French markets but so accessible to me. It's great."
Millie seems to have found balance in her life for the first time in years. "Since Dad passed away, I've really gained perspective. Things that used to bother me in the past now really don't at all, and I'm so much more positive about life.
"I've realised we only have one body, and we don't think about this enough. If you don't fuel your body properly and don't understand you are what you eat, you're not going to benefit fully in life."
- Visit www.facebook.com/cleaneatznz