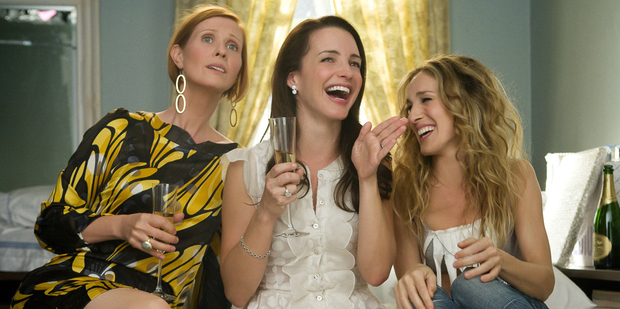 One more time for the cheap seats ...
While some of her gal pals (holla, Kim Cattrall and Cynthia Nixon) may have put the mockers on the idea of reprising their roles for a third Sex and the City movie, Kristin Davis is still cheerleading for a sequel.
"I'm going to have a little talk with Cynthia [Nixon] the next time I see her!" Davis tells Haute Living magazine.
Nixon, who played Miranda in the HBO series and the two subsequent flicks, told The Hollywood Reporter last year that she has no interest in revisiting the character.
"No, no," she said when asked if she was hoping for a third movie. "I think we had a wonderful ride. I think it's fine to let it go."
Davis, 48, dishes in the interview that the idea of a third theatrical spin-off has been bandied about by the powers that be.
"I don't think [a third film] is a pipe dream, there is discussion," she reveals. "People talk about it amongst the people who are the players, but I don't know if it will come together. It would be very exciting if it did."
And that's your lot, as far as any future Sex is concerned at least. Cast your click over here to read what else Davis had to share during her confab.
Davis isn't the only flag-waver for another film.
Sarah Jessica Parker, 48, has made it clear she isn't quite ready to hang up her Manolos.
"I've been saying ... there is one story left to tell," Parker dished to Extra earlier this year. "If it is, in fact, the right time and the right place, maybe we should tell it."
She added, "It would be wonderful. It's fun to ponder."
Parker confirmed to Parade in 2011 that she had an idea for a story.
"There is," she said, when asked if there was a chance for another sequel to the franchise. "I know what the story is. It's a small story, but I think it should be told. The question is, what's the right time to tell it?"
Co-star Kim Cattrall (Samantha), on the other hand, is not as enthusiastic about re-grouping with the girls.
"I am not holding onto that hope," she told MovieWeb.com. "I feel like I've let go. Whatever happens with those characters...I would love to revisit them. It's like a reunion. It's like going home. Thirteen years of your life? That is a long time to be associated with one show and one character. One family. If it happens, that would be great. But if not? It was an amazing experience."
Chris Noth, who played "Mr. Big", famously declared that the franchise is "dead" after SATC2 was panned by critics.
The 56-year-old blamed the media for flatlining the franchise.
"It's over. The franchise is dead. The press killed it," Noth told New York Magazine.
"Your magazine f*****g killed it. New York Magazine. It's like all the critics got together and said, 'this franchise must die.' Because they all had the exact same review. It's like they didn't see the movie."
Noth recently admitted that at the start of filming the 2008 Sex and the City film, he was deemed too big to play Mr. Big.
"When we were doing the movie of Sex and the City, [director and writer] Michael Patrick King came up to me and said, 'Listen, dude, we're not calling you Mr. Big because of the size of your stomach, so go lose that before we start shooting,'" he shared during a confab with HuffPost Live last month.
Earlier this year, original SATC scribe, Candace Bushnell, said she doesn't think there will be a third film.
"No. Look, Sarah Jessica Parker is 47. I think with the second movie, Carrie Bradshaw couldn't be an ingénue anymore. But I think they were stuck doing what the audience wanted," she said.
"Realistically, a middle-aged woman who was married without children would be much more focused on her career and less focused on this Mr. Big: 'Does he love me?' ... Does he still not love me?' I mean, I think it was coming to the end of what they could do with the character," Bushnell shared.
She added: "If it were up to me, the second movie would have been Carrie Bradshaw decides to run for mayor and Samantha helps her. It would get into some real issues of what happens when you're part of a relationship and the woman is ambitious. What does that do to her relationship with Mr. Big? To me, that would be interesting. But they were not going to go there.
"In real life, it doesn't seem realistic to me that character would be writing that column for 15 years. It doesn't make sense! To me. But people love the character, and I think they felt they were doing the movies for fans, and they just wanted to give fans what they wanted. Or what they thought the fans wanted."
Meanwhile, the Mail Online recently ran a yarn speculating that Sex and the City 3 is "in the pipeline," and could be filmed in Greece.
The basis for the rumour? Sarah Jessica Parker spent "most of August sailing round the Greek islands on a luxury yacht". She also apparently had the SATC production team in tow, scouting potential filming locations.
Local press, the Mail claimed, speculated that filming could begin in September 2014 or May 2015.
Take that with a mountain of salt, readers.
NOTABLE NUGGETS
And finally ...
* While lovebirds Kim Kardashian and Kanye West's upcoming nuptials will undoubtedly be a regal affair, the pair will not (contrary to rampant rumours), be trotting down the aisle and marrying like royalty at France's Palace of Versailles.
Per Us Weekly, the "famously over-the-top couple" plan to say "I do" at the opulent landmark.
"Kanye has never been married and wants a big [wedding]," chimed a source, while noting that Yeezy and the 33-year-old reality star "are not working with a budget".
But there's no French affair afoot for the duo, folks. A rep for Kardashian told E! News that the report is cobblers.
Shame. Those fighter jets would have looked lovely zooming over the turrets.
* The National Enquirer tries to couple up Courteney Cox and Ed Sheeran. Fails.
* "I'm all good! It's all out" - Hugh Jackman gives an update on his skin cancer scare.
* George Clooney: Twitter is stupid and stars using it are morons.
* Why Sir Ian McKellen is an absolute legend.
* Mike Tyson is still banging on about that fake penis.
* Sharon Osbourne bashes estranged brother in Facebook post.
* Lana Del Rey's new album will be called ...
* Benedict Cumberbatch reciting the lyrics from R. Kelly's Genius is the best thing you'll watch all day.
* Watch: The Fast & Furious franchise releases a touching video tribute to late actor Paul Walker, who was killed in a car crash in California on Saturday.
- Rumour Has It