The couple are splitting after three years of marriage. Photo / AP
Celebrity couple Orlando Bloom and Miranda Kerr have ended their marriage of three years.
Bloom, 36, who starred in Lord of the Rings, has been living in New York while his supermodel wife, 30, has been staying in Los Angeles, "for the past few months".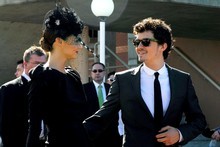 A representative for Bloom confirmed the breakup in a statement: "Orlando Bloom and Miranda Kerr have announced that they have been amicably separated for the past few months ... After six years together, they have recently decided to formalise their separation.
"Despite this being the end of their marriage, they love, support and respect each other as both parents of their son and as family."
The couple divided their time between Los Angeles and London but spent time in New Zealand in 2011 - and were reportedly looking for a home in Wellington - while Bloom was filming the Hobbit.