Denzel Washington claims 2 Guns was just the change of pace he needed, writes Keeley Bolger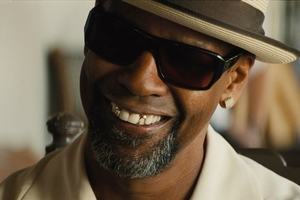 Denzel Washington is cheerfully humming a tune.
It's not behaviour you'd expect from the man known for his stark portrayals of controversial civil rights activist Malcolm X or tough-talking bad boy Alonzo in Training Day, but the double Oscar-winner is anything but predictable.
Take his new action film 2 Guns, for example. As well as brawls, car chases and a pretty hairy run-in with some cattle, Washington does something much more surprising. He smiles.
"I was looking for a departure from heavier roles and when I read this script it really made me laugh," explains Washington. And with raging bulls, whip-smart wit and a rather dapper costume change, 2 Guns certainly marks a departure from Washington's previous role in Flight, as a pilot who snorts cocaine and downs vodka.
In the new film, he and co-star Mark Wahlberg play a pair of undercover agents who work for the US Drug Enforcement Agency and the US Navy respectively.
They have been brought together to infiltrate a Mexican drug cartel and recover millions of dollars.
Only neither Bobby Trent (Washington) nor Stig (Wahlberg) knows that the other is also working as an undercover government agent, having given each other fake back stories.
"Bobby and Stig are lying to each other for half the film," says Washington. "I'm not what I told him I am, and he's not what he told me he is."
When the plan goes to pot, their identities are uncovered and their bosses disown them, Bobby and Stig have to work together to bring down the cartel and clear their own names, which have been sullied by their swindling superiors.
In between all this, there are some rather ferocious fights.
At a very lean 58, Washington, who came to acclaim with the 1989 Civil War film Glory and later won the Oscar for best supporting actor, looks like he can handle a gun. But a raging bull? Well, that's a different matter. "My back is better now but I had fun," he says of a scene in which he and Wahlberg were hung upside down from the ceiling, beaten on the stomach with a baseball bat and then charged at by a seething bull.
"That bull tried to steal the scene," he adds, laughing.
"He actually kicked his feet and started snorting at us, but thank goodness the fence was between us. That was one big, mean animal."
While suspended from the ceiling, the duo have to use all their strength to lift their heads to their chests to avoid the bull pounding into their skulls. Such muscle power could call for a bit of boasting on set, but Washington is too long in the tooth for any shows of bravado.
"Me and Mark were tired after each take of the action scenes. In fight scenes I'd go, 'You win, it's all you!' There was no ego. It would have been easy in those fight scenes for someone to grip the other person a little harder but it wasn't about that," he says.
"A younger actor would have done that and said, 'Oh, what did I do? Oh, sorry,' and you'd say, 'Don't worry about it, we've got one more take.' Then in that take, you'd grip harder and say, 'Oh, sorry. My bad. Cut!"'
Who: Denzel Washington
What: 2 Guns with Mark Wahlberg
When: Opens at cinemas today
Follow @nzherald_ent on Twitter for all the latest entertainment news.
- TimeOut / AAP