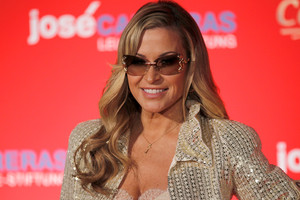 Anastacia has undergone a double mastectomy.
The 45-year-old singer battled breast cancer in 2003 and was given the all clear, but the disease returned earlier this year.
She has now announced she decided on the operation while being treated for cancer this year.
"In light of Breast Cancer Awareness Month I wanted to take the opportunity to support a cause particularly close to my heart," she said in a statement.
"I was diagnosed with breast cancer for the second time earlier this year and am currently in the final stages of recovery after undergoing a double mastectomy.
"It has been an intense journey but I am feeling great and ready to start the next chapter."
The star went on to praise Breast Cancer Awareness Month, explaining it gives hope to many women all over the world.
"Early detection has saved my life twice. I will continue to battle and lend my voice in any way I can," she said.
Anastacia was first diagnosed with breast cancer in 2003 after it was found during a routine mammogram before her planned breast reduction surgery. She had a partial mastectomy and six weeks of radiotherapy.
In February this year she was forced to cancel tour dates after finding her cancer had returned.
The star has previously spoken of her battle, admitting she wonders whether her intense work schedule made her more susceptible to the disease.
Actress Angelina Jolie announced she had undergone a double mastectomy earlier this year after discovering she was genetically predisposed to cancer. TV personality Sharon Osbourne has also had the operation.
- Cover Media