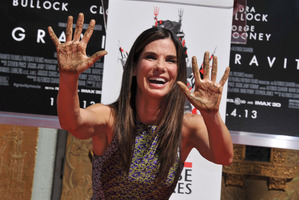 Oscar winner Sandra Bullock made her mark in Hollywood on Wednesday by adding her foot and handprints to the cement outside world-famous tourist attraction the TCL Chinese Theatre.
The Speed star planted her hands and feet in wet cement outside the landmark, with her Gravity co-star George Clooney and comedian pal Chelsea Handler on hand for support.
Bullock also brought along her three-year-old son Louis to witness her big day, but she insists the tot won't be a regular fixture at Hollywood events.
She told E! News, "No events. This is the only one. He usually hates these types of things but this is a big one because of the history of this event. I hope if he has memories of anything, it's something like this."
And she told the crowd that the print ceremony really was all for him, adding, "This way, when he's 16 and he hates me, I can take him to this moment and say, 'Look, people said really nice things about your mother'."
She then told news show Extra, "When he gets older he's gonna resent me, he's gonna ask me to drop him off a mile away from school, (say), 'Stop kissing me ...' But at least I can say, 'You were here and you're the reason it felt so good'."
- WENN