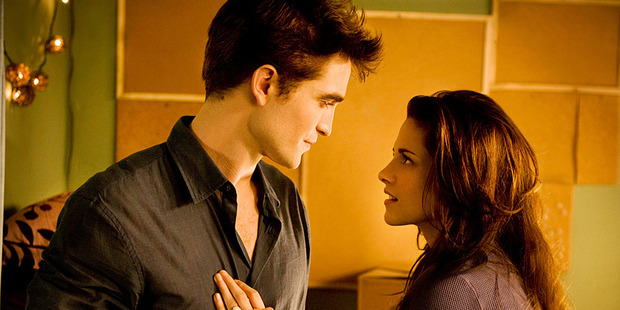 So it's apparently all over rover for Twilight power pair Robert Pattinson and Kristen Stewart.
Done. Kaput. Put to bed, in a manner of speaking.
But for how long? If recent rumblings are anything to go by, the tortured romance that is Robsten might just pick itself up, dust itself down and shape up for an encore.
Hot on the heels of rampant reports that the much-scrutinised on-and-off-again romance was on the skids, People magazine proclaimed over the weekend that Stewart, 23, and Pattinson, 27, have decided to split after more than three years of dating.
Us Weekly also reported that the Twilight pair have thrown in the towel, noting that the couple has been experiencing "problems" lately and "fighting a lot."
Word is the proverbial hit the fan on May 13 after Pattinson supposedly bailed on his own 27th birthday bash, which Stewart had arranged.
"Kristen totally went out of her way to make Rob's birthday super special. She invited friends over to go swimming and just hang out for the late afternoon and evening," a source tattled to Hollywood Life at the time.
"At the last minute, Rob said he didn't want to make his birthday a big deal and said he was just going to hang with the guys. Well obviously this completely pissed off Kristen."
Another insider told People: "It was very strange that they didn't celebrate Rob's birthday together. He had friends over at his house, but Kristen was not part of the celebration. For the past few days, they have not spent any time together."
Prior to his birthday, the pair appeared to be going strong. They were recently seen together after the Met Gala in New York City, and were snapped holding hands at Coachella in April.
But sources told People that the twosome have been spending more time apart in their separate houses since Pattinson returned from New York to Los Angeles earlier this month.
"They again went from spending every second together, to spending more time apart at their separate houses," a source told the mag. "Kristen has been in a terrible mood, and it was obvious that things were not great with Rob."
According to Hollywood Life, the decision to separate was a mutual one.
"Both Rob and Kristen have decided to take a break for the sake of their friendship. They love each other deeply and realise that time away from each other will give them both the perspective that they need."
The source added, "Kristen is one hundred per cent into the relationship but feels like she still has to prove herself to Rob. She's frustrated and isn't sure what else she can do to show how much she wants their relationship to work."
"They are best friends and lovers and right now space is what they have both decided on."
But, per The Mirror, it was Pattinson who decided to call time on their relationship.
"Things have been tricky for a while now but they've both tried hard to keep things together," an insider told the website.
"After nearly four years, neither party was prepared to just throw in the towel.
"But Rob decided he needs to be single for a while and to get his head sorted. He basically needed some 'him' time.
"Everywhere he goes there are reminders of Kristen's infidelity, and it all got a bit much. They're still in touch though, and are planning to meet up to talk things through in a couple of weeks."
Both People and Us Weekly chimed that the romance may not be over for good, adding that they are merely taking a "much-needed break."
E! Online concurs.
While noting that Stewart is "heartbroken" and "so sad" over the break-up, sources close to the pair predict that the split is only temporary.
Despite reports to the contrary, the pair are still shacked up together at Stewart's Los Angeles pad.
Oh, and the couple's four-legged companions apparently deserve a hat tip for keeping the dream alive.
"They are going to stay living at Kristen's house because of the dogs," a source tells the website. "It's not fully over or he would have moved out."
Another mole tattled to E! that the couple's troubles boiled down to "priorities" and that they they've been "trying to iron our their issues".
"They will be back together in no time," the source added.
Their relationship was put to the ultimate test last July when Stewart admitted to a "momentary indiscretion" with her Snow White and the Huntsman director, Rupert Sanders.
Stewart issued a public apology to Pattinson after Us Weekly printed incriminating snaps of a "steamy rendezvous" between Stewart and Sanders.
"I'm deeply sorry for the hurt and embarrassment I've caused to those close to me and everyone this has affected," the actress said in a statement at the time.
"This momentary indiscretion has jeopardised the most important thing in my life, the person I love and respect the most, Rob," Stewart continued. "I love him, I love him, I'm so sorry."
While Sanders told People magazine: "I am utterly distraught about the pain I have caused my family. My beautiful wife and heavenly children are all I have in this world.
"I love them with all my heart. I am praying that we can get through this together."
Sanders's wife, British Vogue model Liberty Ross, filed for divorce in January, citing irreconcilable differences as the reason for their split after more than 10 years of marriage.
Robsten reunited in late 2012, and went on to put on an united front as they tackled the promotional blitz for the final Twilight movie.
So is this the end of the ride for the rollercoaster romance? Only time will tell.
Reps for the two actors have yet to comment on the latest reports.
NOTABLE NUGGETS
And finally ...
* The Daily Mail gawps at a "bloated and aged" Keanu Reeves who hit Cannes this week apparently looking "anything less than handsome".
* Meanwhile, Man of Steel star Henry Cavill really has let himself go.
* What break-up? Justin Bieber and Selena Gomez share a smooch backstage at the 2013 Billboard Music Awards. Taylor Swift gives her official verdict on their bout of PDA.
* Christopher Nolan reportedly in "informal talks" to direct the next James Bond movie.
* What do Johnny Depp and a 505-million-year-old fossil have in common?
* Angelina Jolie to portray her mother in biopic?
* Yeezus! Kim Kardashian confirms title and release date of humble baby-daddy-to-be Kanye West's new album.
* "Just a casual day at the office" - Newly single Rihanna dons a blonde wig, robe and sunglasses for a cheeky Instagram snap.
* Rumour: Jonathan Rhys Meyers in talks for Star Wars Episode VII role.
* "Traumatised critics exhale: I'm unable to do the Oscars again" - Seth MacFarlane will not be back for another stint as Oscars host. He's officially too busy.
* Watch: Fan down! R&B crooner Miguel's performance at the 2013 Billboard Music Awards in Las Vegas definitely left a lasting impression.
The singer miscalculated a long-jump from the stage during his performance of Adorn, and landed on two fans in the process, leaving at least one of them bruised.
Miguel later posted a message on Twitter about the incident.
"Got caught up in the moment, thank goodness Khyati is okay," he wrote.
"Well, I think it's kind of clear what happened," he told Billboard. "But I'm very happy to bring my new friend, Khyati, we just met.
"Unfortunately we did not meet under the best circumstances, but I think we're okay."
Check out the eye-popping collision below:
- Rumour Has It