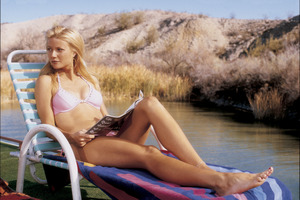 Gwyneth Paltrow credits close friend and trainer Tracy Anderson with transforming her body and says she is happier than ever with how she looks.
"I had exercised before I had met Tracy ... I had done Ashtanga yoga and pilates and I [ran] and I thought I was fit, you know?," Paltrow told Us Weekly
"I said [to a friend], 'You know, [my butt] isn't so bad for 40, right?' And [my friend] goes, 'It's not so bad for a 22-year-old stripper!'"
Although she is in the best shape of her life, Paltrow admitted there are days when she hates exercising and has to force herself to do it.
"I just sob and then kick and scream and then I just force myself to do it. I just got obsessed. When you see results like that, I started following everything she said and she completely transformed my body and I'm so grateful."
Paltrow, who sought help from the celebrity fitness trainer after giving birth to son Moses in 2006, previously credited her regime for putting the spark back in her and husband Chris Martin's bedroom.
"It did such wonders for my life, my confidence, my sex life, everything," said actress and founder of health and wellness blog, Goop.
Anderson, who has also worked with Madonna, added: "When you feel your best, you're more confident in bed, It's not lights-out, under-the-covers sex. It's more like, 'Take a look at this!'"
- BANG! Showbiz