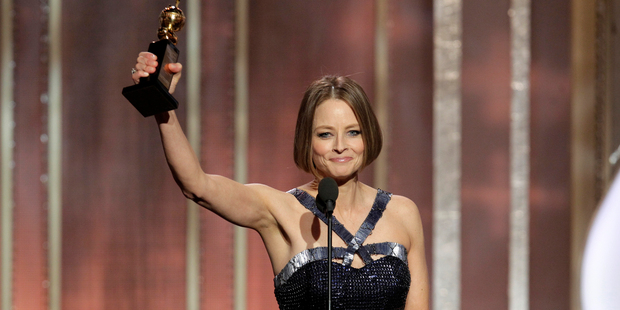 Celebrities including Mel Gibson and Ricky Martin are full of praise for Jodie Foster after her "big coming out" at the Golden Globe Awards last night.
The Panic Room actress has never publicly acknowledged she is a lesbian but as she accepted the Cecil B. DeMille Award - which is given in recognition of outstanding achievement - she admitted her friends and family had known about her sexuality for "a thousand years".
Mel Gibson, who Foster took to the ceremony as her guest, told People magazine he kisses the ground the actress walks on.
The 57-year-old actor and director said Foster was honoured "because she is real".
"I kiss the ground she walks on, I adore her. I thought [her speech] was great. I love her," he said.
Gibson previously praised Foster for supporting him when he was charged with assaulting his ex-girlfriend Oksana Grigorieva.
Former talk show host Rosie O'Donnell - who is an out lesbian - wrote on the social networking site: "jodie foster - rather amazing speech... made me tear up - bravo Jodie (sic)".
Meanwhile, Latin singer Ricky Martin, who publicly acknowledged his sexuality for the first time in 2010, wrote: "Jody Foster On your terms. Its your time! Not before nor after. Its when it feels right! (sic)".
Modern Family actor Jesse Tyler Ferguson added: "Jodie Foster. You are perfection. I love you."
Glee actress Kristin Chenoweth was overcome by emotion watching the awards ceremony, which aired in the US last night.
She wrote: "im bawling. Jodie foster killed me. Wonderful (sic)".
Oscar-winning actor Richard Dreyfuss tweeted: "Jodie Foster is one of the most amazing actresses of all time. More than that she's one of the most amazing people."
Other stars who showed their support included Alan Cumming, Valerie Bertinelli, Nina Garcia and Gabrielle Union.
Foster told the Globes audience she felt the time was right to confirm she is gay but joked it didn't mean she was about to subject people to a fly-on-the-wall account of her personal life - because she isn't interesting enough.
She said: "A big coming out speech tonight ... I already did my coming out about a thousand years ago, back in the stone age.
"In those very quaint days when a fragile young girl would open up to trusted friends, and family, co-workers and then gradually, proudly, to everyone who knew her.
"To everyone she actually met. But now, apparently I'm told, that every celebrity is expected to honour the details of their private life with a press conference, a fragrance and a prime time reality show ... I'm sorry, that's just not me and it never will be.
"But please support me because my reality show would be so boring. I would have to make out with Marion Cotillard, and spank Daniel Craig's bottom just to stay on the air."
The 50-year-old actress - who began her career when she was just three years old - admitted being in the public eye for so long was one of the reasons why she had never acknowledged her sexuality.
She added: "But seriously, if you had been a public figure since the time you were a toddler.
"If you had to fight for a life that felt real and honest and normal, then maybe then too you'd value privacy about all else.
"Someday in the future, people will look back and remember how beautiful it once was. I have given everything up there since the time that I was three years old and that's a reality show enough, don't you think."
She then went on to praise her former lover Cydney Bernard, with whom she raises children Charlie, 14, and 11-year-old Kit.
She said: "Love people and stay beside them. There is no way I could stand here tonight without acknowledging one of the greatest loves of my life.
"My ex-partner in love but righteous soul sister in life, my most beloved BFF (best friend) of 20 years, Cydney Bernard. I am so proud of our modern family."
- BANG! Showbiz