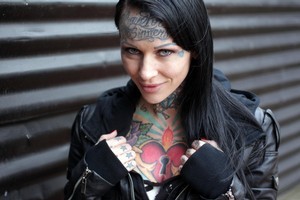 The erotic dancer and tattoo model who became famous after sleeping with Sandra Bullock's former husband says she dated a Kiwi skateboarder months before the affair.
Michelle "Bombshell" McGee told the Herald on Sunday she had a five-month fling with professional skateboarder Josh Rio two years ago. Rio approached her one night while she was working in a Californian strip club during one of his skateboarding tours, McGee claimed.
"He's half Maori, half white, he looks like Johnny Depp," said McGee, who is tattooed from head to toe.
The relationship was short-lived when Rio had to go back to his new home town of Brisbane to pursue his skating career. But, said McGee, the two remained friends.
The single mother of two boys aged 13 and 7 couldn't say the same for her former lover Jesse James, 41.
McGee claimed she didn't know James was still married to Bullock during their 11-month affair.
"He lied to me, seduced me, said he was divorced from Sandra and I found out while watching the Grammies, or one of those shows, that they were still together," she said.
McGee arrived in Auckland this week after porn king and Boobs on Bikes organiser Steve Crow brought her over to host part of the Erotica expo next weekend.
She spent her first 10 hours in the country dancing at Auckland strip club, The White House.
"The girls [dancers] came up and said, 'I can't wait to meet you' and got all giddy ... they were absolutely fabulous."
McGee said she would take part in the Boobie Tour, a topless tour from Paeroa to Auckland next week.
Earlier this month James split from another heavily tattooed woman, Kat von D, 29, whom he began dating last August and became engaged to in January. During their 11 months together, Von D (real name: Katherine Drachenberg) gained a tattoo of James' face in his childhood likeness.